Frontlines
10 Questions With Captain Bersabé Vera
"As an officer, I have the opportunity to serve diverse groups of people in a variety of areas and appointments, which helps me enjoy life to the fullest."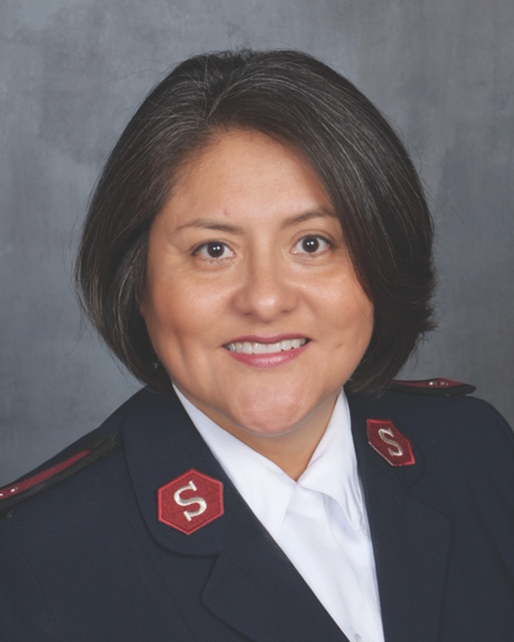 Captain Bersabé Vera is the Divisional Secretary for Program of the Kansas and Western Missouri Division. She oversees corps programs, women's and men's ministries, social services, music programming and Emergency Disaster Services. Vera received a bachelor's degree in business administration from Phoenix University and a master's degree in theology from Asbury Theological Seminary. She graduated from the School for Officers Training in Chicago in 2010 and was ordained and commissioned as a Salvation Army officer. She previously served as Divisional Secretary for the Northern Division, Corps Officer in Blue Island, IL, as the Congregational Life and Youth Officer at the Omaha, NE Kroc Center and Divisional Director of Hispanic Ministries in Kansas City. She looks forward to the opportunities to serve, trust, lean and acknowledge Him and walk with Him moment by moment.
1. How did you meet the Army?
I was born into a Salvationist family in Mexico. My parents are now retired Salvation Army officers. I participated in Junior Soldiers, Corps Cadets, Sunbeam and Girl Guards. I moved to the United States to work for The Salvation Army in the Central Territory's Kansas and Western Missouri Division under the direction of Major Bill Hurula and Colonel Ted Dahlberg.
2. What brings you joy and happiness?
Playing my guitar and participating in praise and worship, bringing a smile to people's faces, challenging people to grow the kingdom, seeing lives transformed, and helping people to grow in their walk with the Lord brings me joy and happiness.
3. What is one challenge that you see for The Salvation Army?
Accountability. The Army gives a lot of freedom to do ministry. Sometimes we choose to do little or nothing at all because we do not know how to do it or are afraid to do something new or do not want to ask for help.
4. Who has made the biggest impact in your life?
Joni Eareckson Tada. She is a woman who is a quadriplegic and has such a vibrant ministry. She shares the gospel and continues to disciple others (from her wheelchair).
5. What are you currently reading?
"Be a People Helper" by Dr. Chuck Lynch.
6. How do you handle negativity?
I talk with my friends and leaders about the challenges I face. I recognize it, give it to God and find the good in the negative.
7. What drove you to choose the career that you did?
God called me to be a Salvation Army officer after serving Him as an Envoy for 10 years, specifically in Hispanic Ministry. As an officer, I have the opportunity to serve diverse groups of people in a variety of areas and appointments, which helps me enjoy life to the fullest.
8. What are two of your greatest strengths?
Evangelism and being a visionary.
9. What advice would you give someone struggling with their faith?
Read your Bible, remove beliefs and opinions from your culture that are contrary to Scripture and replace them with biblical truths. Don't be afraid to ask questions or seek guidance from mature Christians. And learn the principles of the Bible.
10. What's your favorite dessert?
Chocolate lava cake!