Feature
10 Questions With Captain Terry Masango
"I am passionate about proclaiming the good news of Christ. I'm passionate about reaching the lost, through many forms."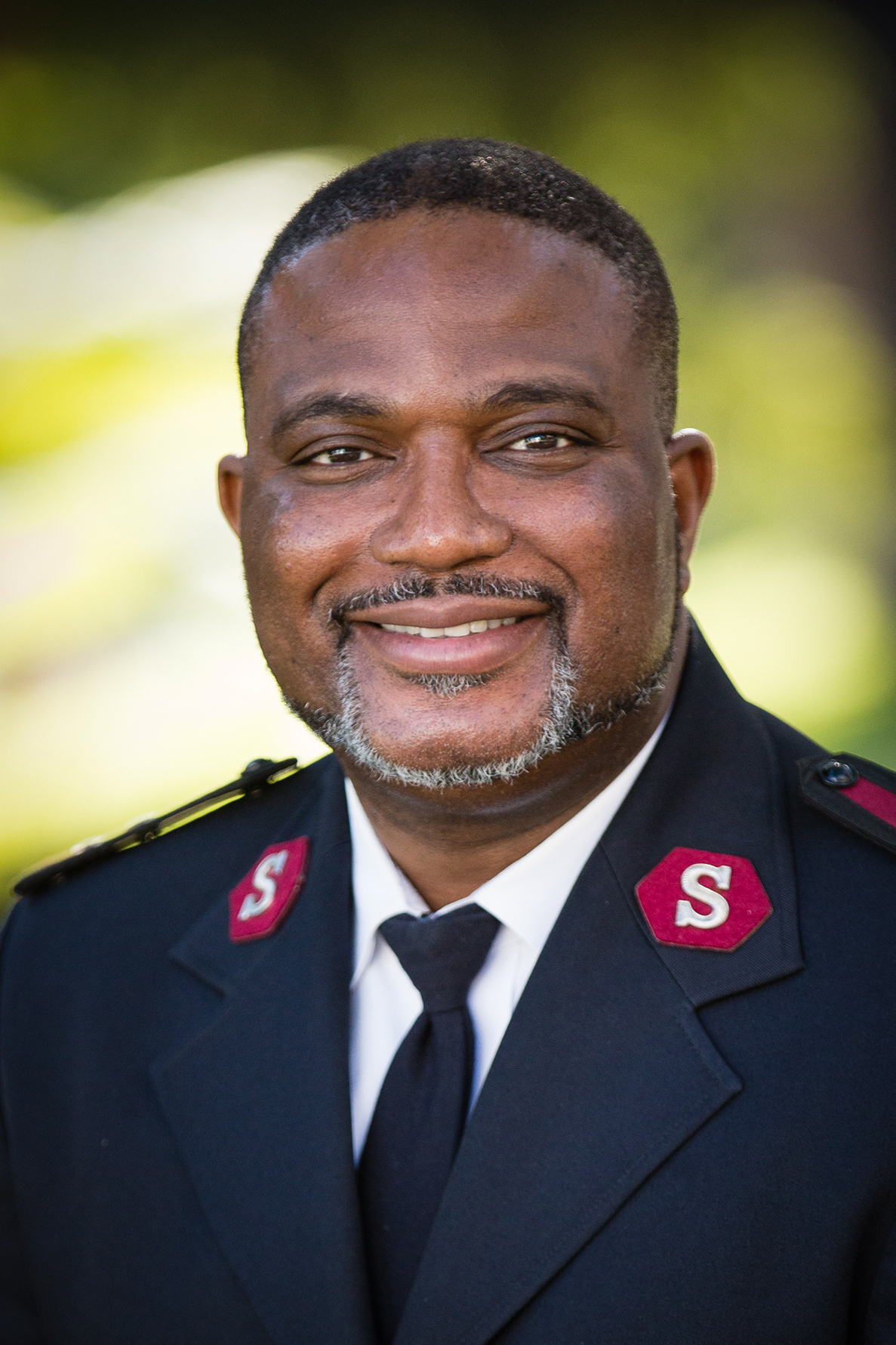 Captain Terry Masango was born in Harare, Zimbabwe. He is a multi-generational Salvationist and graduated from The Salvation Army School for Youth Leadership in New South Wales, Australia. He married his wife, Rutendo, they have two children and after graduation, they came to the United States in 2000. While working at Camp Gifford in Washington state, Terry received a job offer at The Salvation Army Spokane Corps. A few years later, he and his wife entered The Salvation Army College for Officer Training.
Through the years, they have served as corps officers in several corps throughout the USA Western territory. In 2016, they were appointed as the corps officers in the Pasadena Tabernacle corps. Captain Masango holds a BA in Leadership and Ethics from Nazarene Bible College, a Master of Science in Leadership from Grand Canyon University and is a candidate for a Doctor of Education in Organizational Leadership from Grand Canyon University. He is a board member of the Pasadena Rotary Club and a member of The Salvation Army Crestmont College Board of Governance.
1. How did you meet The Salvation Army?
Some of the Army's very first converts in my hometown were my family members. I'm a fifth-generation Salvationist. One of my great-great-grandfathers worked with a British Salvation Army Officer to help start the work of the Army in Zambia.
2. What drives you to excel?
I'm a very driven person. I think the first reason is that I'm the oldest child in my family. From a very young age, I was a leader. I've always wanted to do well so I can support my siblings. The other reason is that I grew up in abject poverty, and as a young person, I remember thinking, "I never want to live like this when I grow up. I want my kids to have a better life than I had growing up."
3. What are two of your greatest strengths?
What I know of myself is I love people; so in a way, the strength is that I am concerned about people's welfare. I want to serve people. I want to be there for people when they are hurting. I want to encourage people when they are feeling down. So, I think it has to do with people in general and with family. For me, family matters. I want to work hard for my family. I want to spend as much quality time as I can with my family.
4. How would you define servant leadership?
Servant leadership is the leadership style that seeks to serve first. The Bible, in Matthew 20:26, Jesus states, "Whoever wants to become great among you must be your servant" (NIV). Jesus demonstrated servant leadership as He wrapped a towel around His waist and started washing the disciples' feet. Jesus taught servant leadership. Leadership is influence. Servant leadership is influence through humility and service. Servant leadership puts the needs of the followers above itself. Servant leaders develop and uplift their followers. Ethics and integrity are central to the character of servant leadership (Northouse, 2016). I believe servant leadership can change the world and inspire people to be their best.
5. What are some of your passions and joys?
The first passion is to preach the Gospel. I am passionate about proclaiming the good news of Christ. I'm passionate about reaching the lost, through many forms. I'm passionate about serving the poor, whether locally or globally, but internationally, I love when I can have fresh water that's well drilled in Africa or something, which is what I am very passionate about helping. My joys are seeing my daughters grow up to be good citizens and good Christians. Joy is spending time with family; joy is seeing lives transformed for Christ.
6. Who has been an inspiration to you in life, and why?
The first one is my grandmother. She was a living example of love; she taught me to pray and how to read scripture. The second inspiration is my uncle. When I was a teenager, I was looking for a good male role model in my life, and he became that. I remember thinking, "When I grow up, I want to be like him." The third is my mother. My mom endured a lot of hardships and abuse to be there for her children. Her patience and soft heart, when she could have retaliated, when she could have done a lot of things, she didn't; just to protect us.
7. How do you handle change and conflict?
Good communication makes change tolerable. To remain relevant, viable or profitable, organizations and people must continuously reinvent themselves. Although I hate conflict, as a Christian, I find guidance in dealing with conflict in Scripture. When conflict arises, my most important desire is to mend the wound and to heal the broken relationship. I start by praying for the situation or person. I ask to meet privately, and if the issue is not resolved, I call in someone of authority to help facilitate the discussion. In most cases, the resolution of conflicts goes smoother than I fear. Don't ignore or run away from conflict. The earlier you handle the conflict, the less painful it will be later.
8. Does being a Christian affect the way you view business?
When I think about Christianity and business, I think of ethics. I think that as Christians if we are ethical in all areas of life then it also affects how we conduct ourselves in business. I believe that businesses should be run ethically, which means people are respecting others.
9. What do you see as a challenge for The Salvation Army?
There is a huge paradigm shift taking place in the world today as we move from the modern era to the post-modern era, where everything is relative. In this era, everything we held as truth—who God is, the Bible and so forth—all those things are now up for debate with the population. The biggest threat that the Army faces is proclaiming the message of God without sounding exclusive and bigoted.
The second challenge we face is trying to adapt to those changes in people's struggles now with organized religion. Everything that the Army represents becomes questionable in the society that doesn't trust anything established. It's incumbent for the Army to find creative ways to remain relevant without losing our culture.
The third element to that is our social services wing. In the past, there were very few social service organizations and very few non-profits. These days, there are thousands of non-profits all competing for the same dollars. That also threatens our existence as The Salvation Army.
10. Finally, pineapple on pizza? Yay or Nay?
Sadly, I am gluten and lactose intolerant. So I don't eat pizza, but if I did, I would say yay!