Frontlines
10 Questions with K. Kendall Mathews
I am thankful that the Holy Spirit lives in me and guides me, without His presence in my life, I'm not sure where I would be today.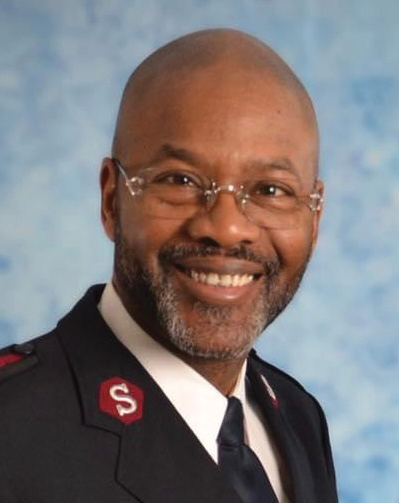 Major K. Kendall Mathews, along with his wife, Major Katrina Mathews, serve as Salvation Army Officers. They are currently appointed as the administrators of the Adult Rehabilitation Center in Chicago, Illinois. Major Mathews is also a gifted writer who has contributed to The War Cry. His prose poem, "Who I Am," is featured on page 9 of this edition.
1. Tell us about yourself and your career.
I grew up in a Jewish community in Northwest Detroit where I learned the value of cross-cultural community living. It was there I discovered God calling me to work with people as a giver of self to others and to the Savior. These experiences have helped to mold my calling and craft for more than 30 years of full-time service.
2. How did you first start becoming involved with The Salvation Army?
I got involved through a social work internship at The Salvation Army Camp Wonderland in Camp Lake Wisconsin, as a student at Greenville University.
3. What do you most appreciate about The Salvation Army ministry?
The mission of sharing the gospel of Jesus Christ by providing soup for the stomach, soap for the body and salvation for the soul.
4. Who is your most admired leader and why?
Paul Bollwahn. He inspired me to adopt and put into action the holistic approach to my service to the Lord and all those around me.
5. How would you define servant leadership?
A lifestyle of service to others as an offering to my Lord and Savior Jesus Christ. I am saved to serve and putting Servant-Leadership into action has given me a sense of divine freedom from fear to faith to serve the whoever, wherever. It's showing Christly encouragement that creates a healthier future that will inspire, empower and guide others to realize their place and potential that can lead people toward real growth and development in Jesus Christ.
6. What drives you to excel?
Growing up my parents and big brother pushed and encouraged me to be the best at everything I do. I really found that in the sports I played growing up I learned not to be fixed on losing, but just doing my best. My parents instilled in me that I could do anything if I set my mind, body, and soul to do it. Moreover, God desires the very best from me and He proved that when He sent His Son Jesus to die on the cross for my sins. I am thankful that the Holy Spirit lives in me and guides me, without His presence in my life, I'm not sure where I would be today.
7. Does being a Christian affect the way you view business?
The business of ministry belongs to the Lord. It's all His work that He created for us and that includes business. As a result, my Christianity and salvation should not waver when it comes down to conducting God's affairs. He hasn't called me to compromise, negotiate or bargain as though I was in a marketplace. I've worked to handle His business with integrity and commitment based on the standards of God—righteousness, truth and honesty. If anything, at times I've felt overwhelmed, that I couldn't maintain that standard, but I prayed through it and God gave me the answers I needed to move His ministry forward in the Name of Jesus.
8. What do you view as the greatest challenge and opportunity for The Salvation Army?
To have enough resources, financial and otherwise, to meet the overwhelming challenges we face as a society. Since the needs are great, both spiritually and physically, it gives us more opportunity to proclaim the Gospel of Jesus Christ and share the Good News.
9. How do you handle change and conflict?
For me, dealing with conflict up front is vital to developing communication and building interpersonal relationships. "It was on me to humble myself as the leader and say, it was my fault, can you forgive me?" In my years of ministry, I have had to remind myself of that, but I am thankful that I did, because while there are conflicts that arise and surface, they must brought to the light and not avoided. This develops real resolution and change that is God honoring.
10. What is your favorite dessert?
Katrina's Homemade Oven Cooked Banana Pudding.