Frontlines
Coronavirus Pandemic: The Salvation Army Connected & Continuing to Serve
The Army is continuing to meet human needs around the world, despite the challenges of providing essential services when faced with restrictions being enforced to quash the spread of COVID-19.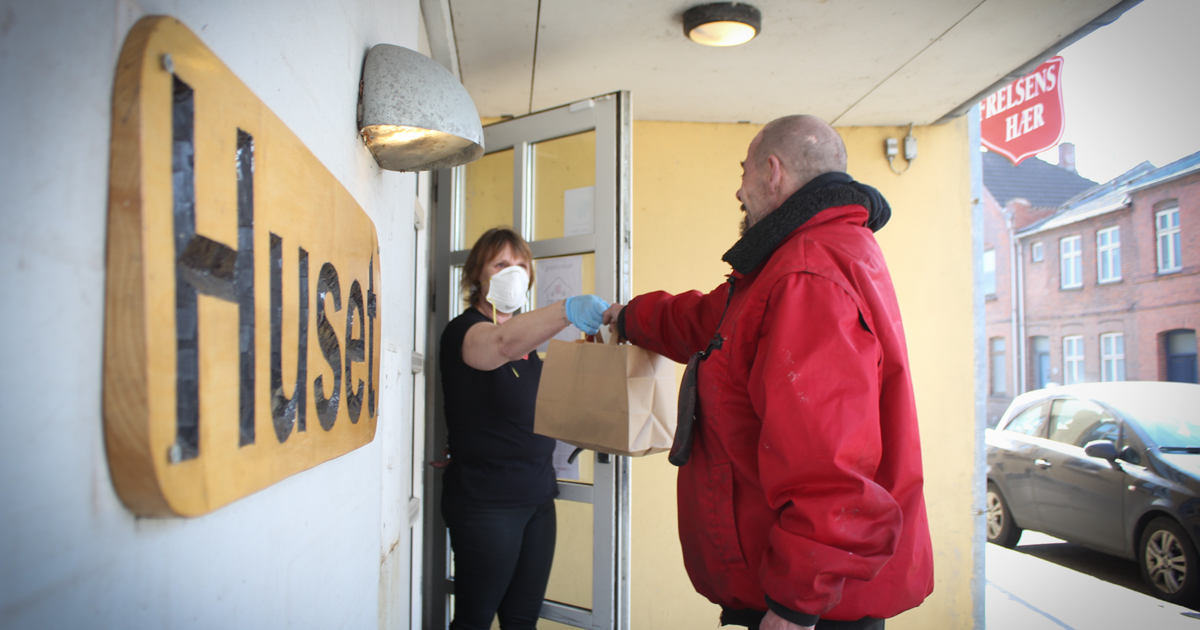 The Salvation Army is continuing to meet human needs around the world, despite the challenges of providing essential services when faced with the wide-ranging restrictions being enforced to quash the spread of COVID-19 (also known as SARS-CoV-2 coronavirus).
In line with prevailing World Health Organization advice and in compliance with instructions issued by national health agencies, scrupulous hygiene practices have been implemented worldwide along with extensive social distancing measures.
The Salvation Army's International Conference of Leaders, which would have brought senior Salvation Army leaders from every country together in Lisbon, Portugal, this week for a period of strategic discussion, decision-making and prayer, has been postponed.
Today, the movement's International Headquarters (IHQ) in London, UK, has also been closed to the public and all but a small number of essential operational staff, until further notice. This includes the popular Café 101 and Gallery 101 exhibition space, as well as the International College for Officers at Sunbury Court in south-west London. A travel moratorium has been put in place for all IHQ personnel.
The Chief of the Staff, Commissioner Lyndon Buckingham explains: 'We continue to follow closely as the circumstances change around the world and will make further adjustments as required. The staff will continue to support the international Salvation Army from their homes. IHQ is well positioned technically to maintain connections and support the Army throughout the 131 countries in which it operates.
'We continue to pray for all affected around the world by the coronavirus outbreak, and for The Salvation Army's ongoing response to meet human needs in these difficult times.'
In several countries, Salvation Army public worship meetings have been suspended, with live streaming providing opportunities for Christians to take part in prayer and Bible study together. Where permitted, Salvation Army corps (churches) are remaining open for personal reflections, prayer and pastoral support.
The Salvation Army's International Headquarters Communications team has put together a series of shareable images that encourage Salvationists and friends to think about 'how we can keep on caring for each other, and keep on being people who care' during this time where freedom of movement and interaction is curtailed. These can be found on a special page on the IHQ website (sar.my/covid19) and across social media.
As the transmission of the virus is at different stages in different countries, the nature of The Salvation Army's response also varies. The following summary gives a flavour of some of the ministry being undertaken, though is by no means exhaustive.
Africa
While the continent has not been as severely affected as much of the rest of the world, all countries in which The Salvation Army is present have stepped up health security measures. Kenya East has developed plans for a COVID-19 health awareness programme, emphasising the importance of regular, thorough handwashing. A similar prevention programme is anticipated in Rwanda and Burundi. In a press conference, Kenya West Chief Secretary Lieut-Colonel Morris Vincent committed to the national government that The Salvation Army would engage in 'every effort possible to help curb the spread of the coronavirus'.
Territorial Emergency Coordinator of Southern Africa, Major Heather Rossouw, reports that the territory is currently equipping all centres with clear handwashing instructions and guidelines as well as information about the virus and how it is spread. They are also continuing the day-to day feeding programmes of particularly vulnerable people. However, measures have been put in place to make sure that staff and clients are kept safe.
Americas & Caribbean
The Salvation Army in The Bahamas has provided the national government with 70 pallets of supplies including hand sanitiser, examination gloves, face masks, hazmat suits, pain management medications and non-medical items such as hygiene kits and personal care articles. As preparation for a possible future countrywide shutdown The Salvation Army's mop factory in Nassau will increase its production. This will ensure a supply of cleaning materials and provide workers with additional funds should they not be able to work for an extended period. Changes have been made to a street feeding programme, in order for vulnerable people to be served through a window, rather than putting staff and clients at risk by requiring closer proximity.
In Suriname, measures have been taken to suspend large gatherings of people, and to equip corps to facilitate prayer meetings at home.
Substantial work is underway across the USA to address communities affected by coronavirus shutdowns. USA Western Territorial Commander Commissioner Kenneth Hodder outlines some of the work being carried out: 'In Anchorage, the emphasis is on home delivery to seniors. In Los Angeles, we're working with the LA Unified School District to provide food to children so they get at least one square meal a day. In Portland, we're making one of our facilities available to house medically fragile individuals … In fact, all of The Salvation Army's facilities, no matter where they are in the United States, are available to meet the needs of this emergency.' Additionally, in the South, The Salvation Army in Fort Worth, Texas, is helping to screen vulnerable members of the community for COVID-19 coronavirus.
Europe
With many European countries implementing travel restrictions and closing borders, there are considerable challenges in meeting needs safely. In Denmark, legal advice is being provided free-of-charge to vulnerable people who may be experiencing particular hardship because of the cessation of much employment. The Salvation Army's Pakhuset community centre in the centre of Copenhagen has had to close because of the high risk of COVID-19 transmission. However, 60 of the clients – mainly homeless people or migrants – are being supported on a one-to-one basis and provided with nutritious meals. Likewise, in Nakskov, food packages are being distributed to social centre clients – and the wider community – via a hatch in the wall, to minimise social contact.
In Rome, Italy, where the city has been extensively locked down and all non-essential shops closed, The Salvation Army has been working with the municipal government to ensure that food and other vital supplies can continue to be provided to the vulnerable groups it works with. The Salvation Army in Switzerland has been helping to coordinate grocery shopping and providing basic supplies in parts of the country where closures have taken effect.
Dutch military forces who are in northern Norway on Exercise Cold Response have donated food to The Salvation Army in Tromsø. Many Norwegians are stocking up fearing supply shortage as the coronavirus situation worsens, leaving reduced quantities of leftovers that The Salvation Army normally gets from the grocery stores. This makes it very difficult for the organisation to provide supplies to the vulnerable people who seek its help.
'Many of the people we are in contact with have no savings account with buffer money or an extra cupboard with [spare] cans. They live on what they have in the moment,' Lieutenant Ida Amelie Mayes of The Salvation Army in Tromsø told Norwegian TV channel NRK.
South Asia
The Salvation Army in Bangladesh is preparing a COVID-19 clinic, while in neighbouring India, The Salvation Army's International Emergency Services team has funded urgent projects in the Central and South Western territories to provide health information through banners, leaflets and other forms of mass communication. In western India, a Salvation Army-run hospital is planning to enhance its staffing and equipment, while also undertaking a community prevention initiative.
South Pacific & East Asia
The Salvation Army in Korea has adapted to changing circumstances by seeking donations to its iconic Red Kettles – not of money but of face masks.

In some parts of Australia, The Salvation Army has been asked to deliver food parcels to people in quarantine. Following the short-notice cancellation of the Australian Grand Prix, the Atlantic Group donated food intended for the event to The Salvation Army, in order to feed vulnerable people in Melbourne. Major Brendan Nottle said the support has been 'absolutely incredible'.
The Salvation Army's teams in Hong Kong and Macau have been addressing COVID-19 since the outbreak began more than two months ago. Personnel have been visiting many families and have been giving out hand sanitiser, surgical masks and essential foodstuffs to the vulnerable in their communities. Daily meal deliveries have not been affected, but now use disposable foam packages instead of metallic tiffin carriers to minimise physical contact and washing after use.
Similar activities have continued in Taiwan, where Regional Commander Major David Kinsey says: 'The Salvation Army does not retreat and we may need to find other ways of being Church. Church isn't something we do, it is something we are.' Echoing this, The Salvation Army in Japan is considering how to turn difficulty into opportunity. 'We need to make sure we are connected, even though we aren't in the same venue', said the country's medical officer Major Peter White.
This article was originally published by The Salvation Army International Headquarters.