Army Archives
Doughnuts for Doughboys
Are we encouraging others by the work that we do, just like Helen and those lassies did?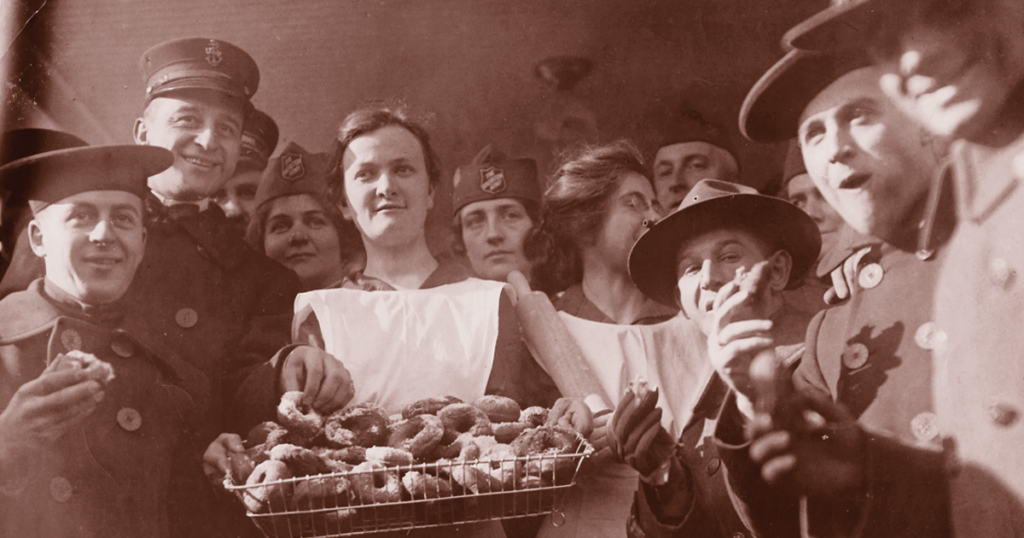 It was September of 1917. Four women from The Salvation Army were sent to the camp of the First Ammunition Train, First Division, which was not far from the trenches of eastern France. Among these women was 28-year-old Helen Purviance. She and The Salvation Army lassies who were with her exchanged their bonnets for gas masks and .45-caliber revolvers. But the baking supplies that they needed were not within their immediate reach.
At the beginning, these lassies were to provide the same treats and activities that they did in the United States, whether it was in giving some kind of comfort treat or holding red-hot evangelistic services. It was Helen and Margaret Sheldon who came upon a new idea. Why not make hot and fresh doughnuts to remind these men of home life? So, Margaret and Helen asked some of the battle-worn soldiers to help them collect excess rations of dough and located shell casings and wine bottles for their makeshift rolling pins.
They took one of the soldier's helmets and filled it with lard to fry the braided crullers. Later, they improved their fried creations by combining an empty condensed milk can with a narrow tube of camphor ice to make a cutter in the true doughnut shape, wrote John T. Edge in "Donuts: An American Passion."
The doughnuts were an immediate hit and eventually became a known staple for those doughboys who served in the trenches during the Great War. So much so that The Salvation Army lassies became well known after the war as well. Even though The Salvation Army only sent 250 volunteers to the front in Europe, the doughnut girls had a brilliant impact on each of the soldiers they encountered. Are we encouraging others by the work that we do, just like Helen and those lassies did? 
Ingredients
2 large eggs
5 cups flour
2 cups sugar
5 tsps. baking powder
1/4 tbsp. salt
13/4 cup milk
1 cup lard*
*Because it is no longer 1917, you can choose healthier options like butter or vegetable oil.
Preparation
Combine all ingredients (except for lard*) to make dough.
Thoroughly knead dough, roll smooth, and cut into rings that are less than 1/4 inch thick.
Drop the rings into the lard*, making sure the fat is hot enough to brown the dough gradually.
Turn the doughnuts slowly several times.
When browned, remove and allow excess fat to drip off.
Dust with powdered sugar. Let cool and enjoy!
Captain Charles Smith is the corps officer in Jonesboro, AR. Photo via The Salvation Army National Archives/