Army Archives
Evangeline Booth's Harp in Indiana
"It is said that General Booth carried this harp by mule back to the Klondike during the Gold Rush for use in her prayer meetings."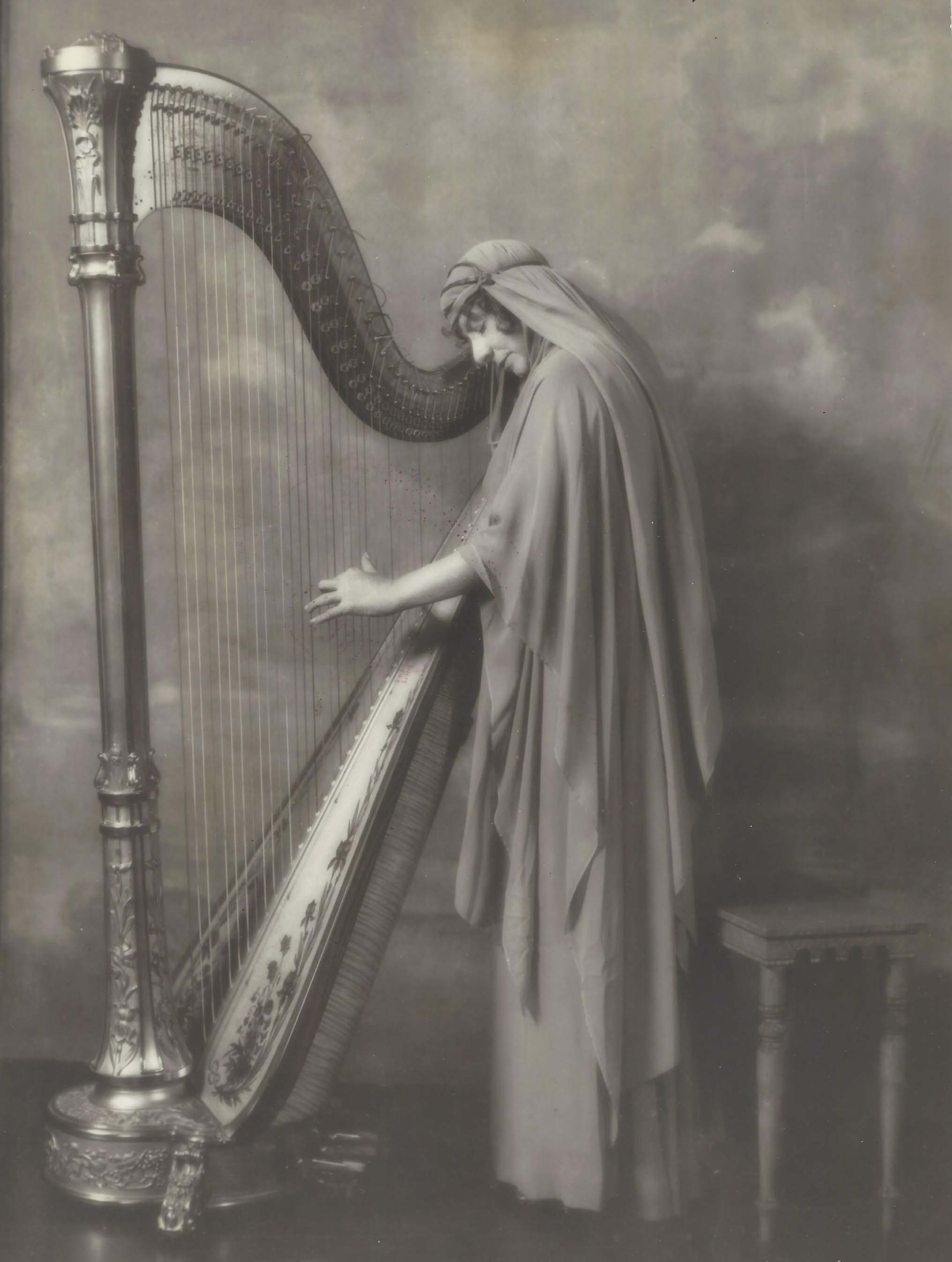 Evangeline Booth, daughter of William and Catherine Booth, was a harpist who wrote many songs with harp in hand. In the early days, she owned an Erard harp, and the fact that it was a Grecian model had sentimental significance because London's Grecian Theater (later, called the Old Grecian corps) played an important part in Eva's life. It was there that she fell in love with the corps officer. They likely would have gotten married; however, she was convinced by her father that she could be more effectively used by God if she remained single.
When Eva's new appointment transferred her to Canada, she took the harp with her on an evangelistic expedition to the Klondike in 1898 and the harp was transported on the back of a mule.
In 1904, Eva became Commander of The Salvation Army in the US. Because America was such a vast area to command, the country was split into two territories soon after she arrived, and the Western Territorial headquarters was established in Chicago. It was around this time that Eva visited the Lyon and Healy Music Store in Chicago. It had begun manufacturing and selling harps in 1889 and quickly became a world leader in producing high-quality harps. Eva gave the company her Erard harp as a down payment on a larger Lyle and Healy Style 11 harp.
Meanwhile, in 1894, Mildred Dilling was born in Marion, Indiana. When her mother was young, she saw a traveling violin and harp duo perform. This made a big impression on her, so much so that she was determined to have her two girls learn these instruments. No one taught the harp in Marion, so Mildred took piano lessons first. In 1905, the family moved to Indianapolis so Mildred could have an instructor. A talented teenage harpist named Louise Schellschmidt had recently returned to Indianapolis from studying harp in Europe, and she was to become Mildred's teacher. On February 23, 1906, Mildred came home from celebrating her twelfth birthday to find a beautiful harp adorned with a red bow. Her mother had bought Evangeline Booth's Erard harp from Lyon and Healy.
Mildred became an internationally famous harpist and accumulated the largest private harp collection in the world. She performed across the globe, and even at the White House seven times, for five different presidents. Her pupils included Bob Hope, Laurence Olivier, Deanna Durbin and Harpo Marx. Harpo was self-taught until he met Mildred in 1928, and she gave him lessons over the next forty years.
And think, her amazing career started with Evangeline Booth's harp. Mildred never forgot. Mildred Dilling kept Eva's Erard harp for the rest of her life. She even took it to Alaska on tour, though not on a mule! As the harp was getting old and fragile, Mildred allowed it to be included in the New York Metropolitan Museum of Art collection until her death in 1982. Indiana University then received much of her vast harp collection including the Erard. Soon, Eva Booth's harp was put on permanent display. It sits encased in glass on the second floor of the Indiana University Music Library in Bloomington, IN.
Mildred Dilling
Born in 1894 in Marion, Indiana, Mildred Dilling was the daughter of a candy maker and became one of the most renowned harpists in the world. Ms. Dilling performed throughout North and South America, Asia and Europe. At the peak of her career, she performed 85 concerts and traveled 10,000 miles per year. She was often billed as "The First Lady of the Harp." Even in her early 80s, she was performing ten concerts a year and giving workshops in her tiny New York City apartment. She owned the world's largest private collection of harps, with a total of 124.
A founder of the American Harp Society, Ms. Dilling kept about 65 harps in her apartment and had others stored around the world. Most of the time, she brought about 25 harps on a concert tour. She put them all in a row, driving from one part of the United States to another, staying with friends along the way.
She was the quintessential performer, wearing beautiful formals. With her outgoing, friendly personality, she connected with audiences immediately. Mildred always had a smile on her face and taught her students to have a positive attitude in their music and life.
Mildred wrote two books that are still read by harpists today, "Thirty Little Classics" and "Old Tunes for New Harpists." In 1982, Mildred Dilling passed away at 88 years old.
The Harp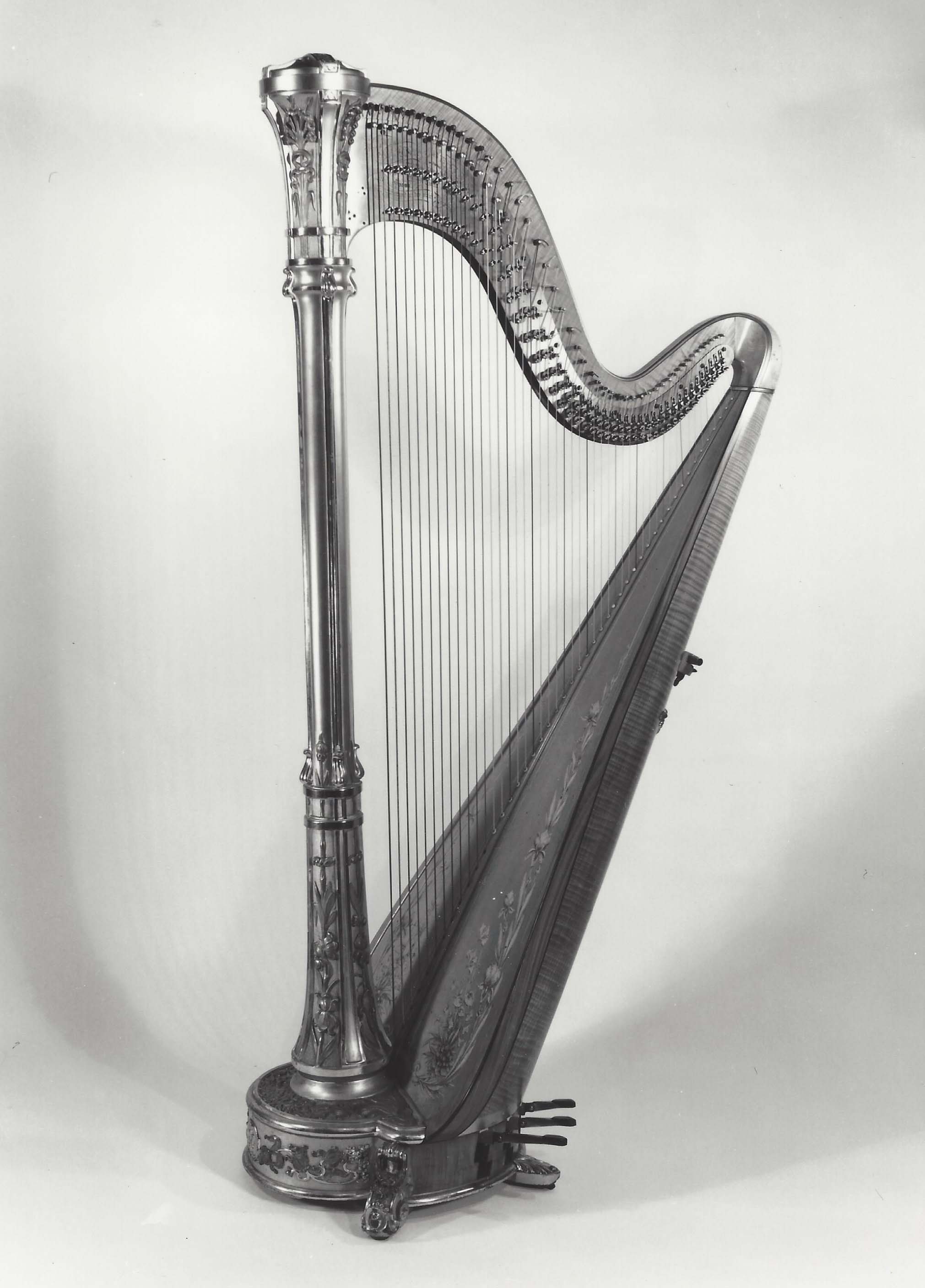 In 1836, Evangeline Booth's Erard harp was made in London. It stands 66 ¾ inches tall and has 43 strings. First produced in 1811, the Erard "Grecian" model was the first successful double-action harp. Each pedal could raise the pitch of its associated strings by either one or two half-steps, enabling the harp to be played in any key.
"My first harp was presented to me when I was 12 years old. My mother bought this harp from General Evangeline Booth of The Salvation Army. It is said that General Booth carried this harp by mule back to the Klondike during the Gold Rush for use in her prayer meetings." —Mildred Dilling