Army Archives
Evangeline's Life-Saving Dog
"Evangeline Booth had dogs, birds and horses. She even had a pet monkey."
The Booth family was famous for their many pets over the years. Evangeline Booth had dogs, birds and horses when she served as National Commander in the United States. She even had a pet monkey when she was a child in England.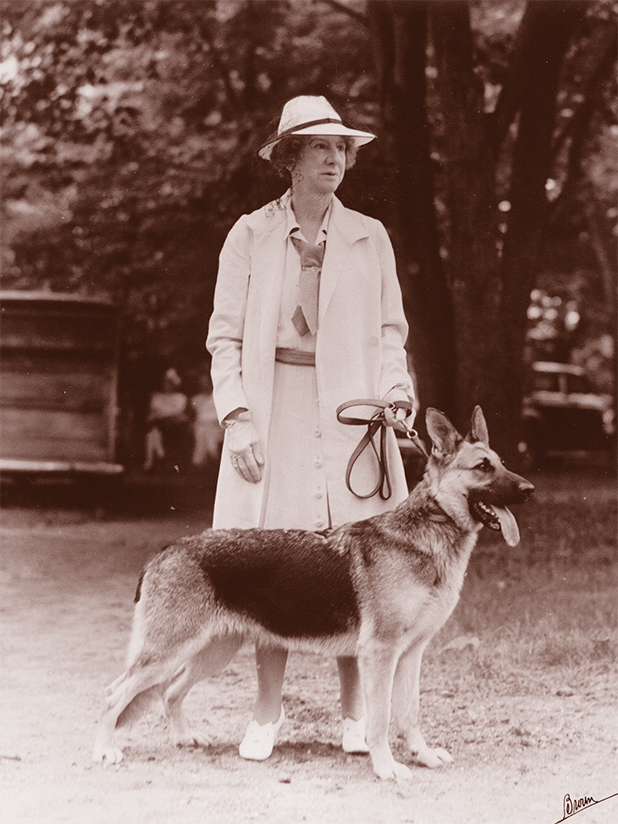 One particular pet that became somewhat famous was a gift from a longtime friend, a German shepherd named Maizy. After battling an illness for four months, the Commander awoke one February night in 1926 in pain and unable to move. However, she found that she could snap her fingers. Maizy, who was sleeping at the foot of the bed, responded, and as Evangeline lay terror stricken, she was able to whisper, "Go get Major Mary Welsh." Major Welsh was Evangeline's longtime companion and housekeeper.

Immediately, Maizy roused the household, and Major Welsh summoned the doctor. Evangeline praised her dog at a public meeting a month later.

The entire incident was reported in the New York Times on March 26, 1926. Many years later, Maizy did it again! On the eve of her leaving for London in 1934, General-elect Evangeline Booth felt very ill, and Maizy alerted Major Welsh again. This time, the 69-year-old Booth had a minor heart attack, but Major Welsh tried to hush Maizy, saying, "Shh, you'll disturb the General!" Luckily, she thought she'd better check on Evangeline, and the medical staff was summoned. At a public meeting a few months later, Maizy was honored with a gold lifesaving medal by the American Humane Society and the ASPCA. This second incident was reported by the New York Times on November 23, 1934.
Though Evangeline had to soon leave for London and part with her trusted companion Maizy, she would always remember how Maizy saved her life, not once, but twice.
Photo: Salvation Army National Archives