Frontlines
Forward in the Time of COVID
"We are better positioned to address pandemic poverty from what we've learned."
One year into serving as National Leaders, Commissioners Kenneth G. and Jolene K. Hodder reflect on the Army's response to challenges and opportunities and the implications for the way forward.
WAR CRY: What a difference a year makes. Since becoming national leaders one year ago, you've faced a time of incredible challenge, opportunity and change. What are your impressions of Salvation Army National Headquarters here in Alexandria, VA, bordering the nation's capital?
JOLENE HODDER: I've known that National Headquarters (NHQ) represents the nation, but I had no idea how many committees run out of this building—the last count was 45. All the stakeholders of The Salvation Army are represented in those committees. Everybody from around the nation has a voice and that makes me very proud to be a part of NHQ.
KENNETH G. HODDER: The capability the Army has to impact what is happening nationally, in local communities, across the states and indeed around the world in many ways comes to a head here at National Headquarters. The energy of the nation comes together here. Outreach to other parts of the world proceeds from it. We have found it a source of delight (and occasional exhaustion) to be a part of that hub of activity.
What is the role of National Headquarters in relation to the four US territories?
KH: National Headquarters serves both a support and a leadership function. It is in those territories that the work at the ground level takes place. Everything we do here is directed toward getting resources to the front line, whether in terms of fundraising or messaging. What we produce here is designed to strengthen that local corps or center to achieve the fundamental goals of The Salvation Army.
At the same time, National Headquarters serves a leadership function. Because of the impact the Army has across the country, others want to know about it. Others want to work with us. The federal government is eager to find out what's happening at the local level. Headquarters is a clearinghouse, if you will. Opportunities for collaboration are increasing. The need for centralized, focused communications is growing. The need for greater capacity at the local level is increasing. All of these things are going to make the role of National Headquarters critical in the years to come.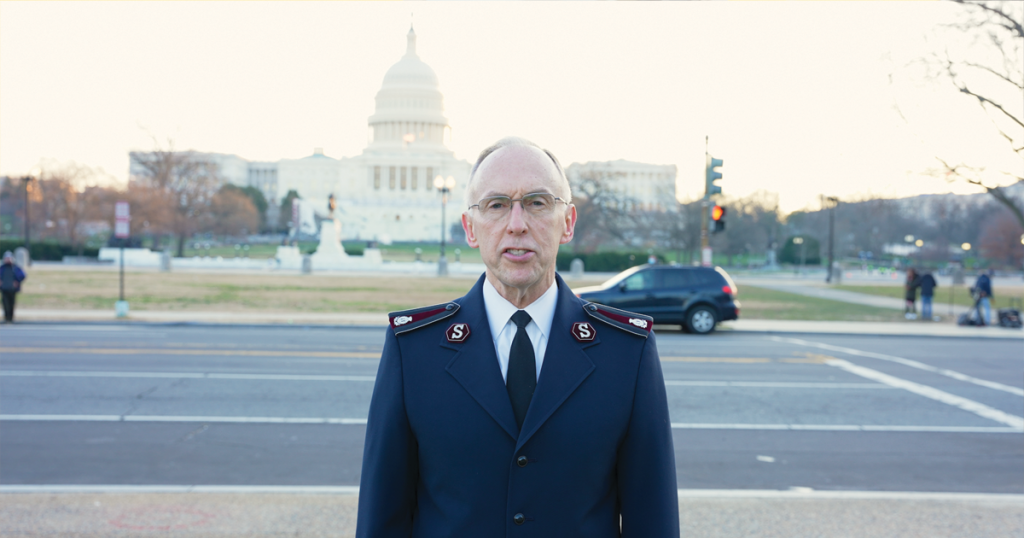 The country has faced unprecedented challenges during the pandemic. How has The Salvation Army responded?
JH: The creativity of our volunteers, officers and members of our national and local advisory boards amazes me. The pandemic has come into our own homes and yet everyone has found a ministry. I think of the moms who home-school—they're also packing up Sunday school lessons or baking food and making deliveries to the neighborhood kids or to the hospital. We were at one of the stadiums serving food and putting together big care package boxes. All of a sudden, we heard music. Everyone—the workers, the volunteers from all the churches—went into the street and danced. The policemen directing traffic joined in. That to me is what the family of God is all about. That's what community is all about. We came together to do what needed to be done and celebrated that partnership. Everybody has found a way to reach out to others in need, and that just makes me incredibly proud to be part of The Salvation Army.
KH: The Army has thrived in this past year. Did we have to shift gears? Of course. The Army at its best innovates and evolves and adapts. The Salvation Army was the first organization to use film many years ago, before Hollywood ever caught on. It was an early leader in the utilization of the automobile. In the midst of COVID-19, that part of our DNA has risen to the surface. We moved quickly into new areas of service. That's because we are organized in a semi-centralized fashion. We didn't have to convene committees or commissions. We simply said, "Go do what you do best." And people did. Our volunteers did, our officers did, our employees did. We've touched more lives and we have had a larger impact on America than I think anyone ever imagined.
What would you convey to young officers in these challenging times?
KH: First, I would have to say thank you. What they have accomplished over the past year has been nothing short of extraordinary. They have represented the Army and the Lord in a million beautiful ways. Many are exhausted. They're tired. There doesn't seem to be any let up. And the reality in this country is that over the next couple of years, the need for that kind of innovative and consistent service will not diminish. It's not going to let up. I would remind them that the Lord is the source of constant strength and guidance. Every single day, renew your relationship with the Lord, and all will be well.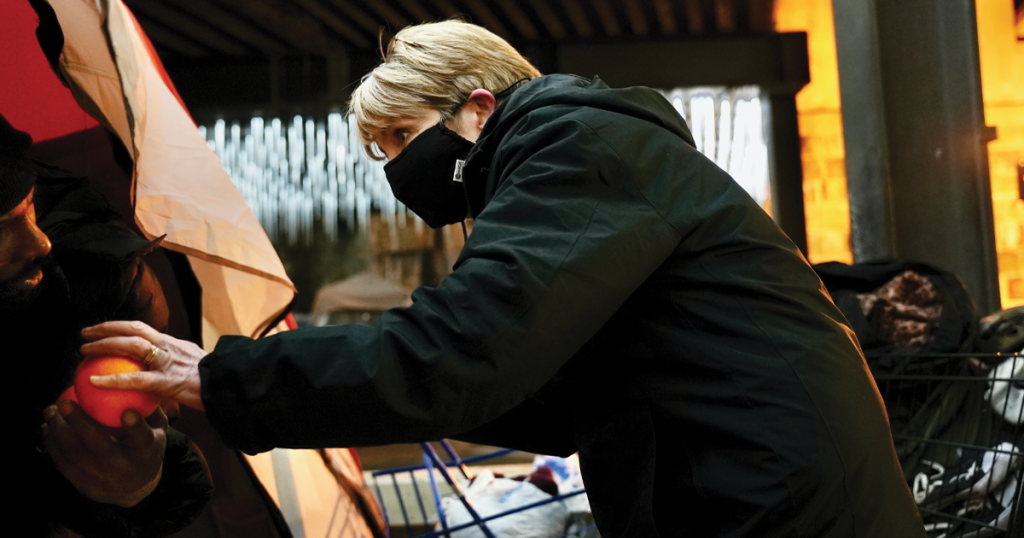 We're the nation's largest Social Service ministry. There's been some new people who have reached out to The Salvation Army during this pandemic. Tell us about that.
KH: The Salvation Army's relationship with the American public began in World War I with serving doughnuts to the Doughboys. Those soldiers were from every walk of life, every community across the country. The Army touched them, and that generation did not forget it. For ensuing decades, The Salvation Army has been a part of American society. This pandemic has been another such moment. People who had never been to The Salvation Army before were in their cars lining up for food. People who had given to The Salvation Army at the Christmas Kettle were coming for help to get toys for their children at Christmas. I'm convinced that the Lord is going to use this not only to touch their lives, but also to allow the Army to touch other lives for generations to come. It's a watershed moment.
What are some challenges going forward?
KH: First, we have the opportunity to make organizational and structural changes that are going to make us even more efficient in the days to come. The ability to use Zoom, use data pools, to use technologies that have taken enormous leaps forward in the past year increases our impact at the local level. We can reduce overhead even beyond what The Salvation Army is able to do as a good steward of resources today.
The other thing that I think is an opportunity for us is how the Army brings together everyone. The Army is already in every zip code. We reflect the communities that we serve. At this moment in time, when there is urgency for meeting the needs of marginalized and disproportionately impacted groups across the country, the Army is there. We've always done that. We respond to disasters with emergency relief on the ground ready to serve at a moment's notice. It's also true with respect to day-to-day activities. The Army's already there. And that's a great strength.
JH: One of our challenges is to continue to get the word out that we are there for anyone who has a need. If there's even just one person who doesn't come to The Salvation Army because they don't feel comfortable coming to us, they don't know what we do, that they think they'll be judged, we haven't done all we can to reach them. We need to continue to get that word out that we're here for everybody.
We've heard you say "Pay attention to pandemic poverty." Why is that?
KH: During the great recession of 2008-2009, we saw significant drops in household wealth. It was a difficult time. We did not see the largest number of people coming to the Army for assistance until 2010 to 2013. The dislocations of that recession caused an ongoing challenge for millions across the country. I'm convinced that the same outcome will happen. Since last year, eight million people have fallen into poverty. There's been enormous disruption in the employment picture for millions. Millions of households have had forbearance with respect to their rent payments or their mortgage payments. That's not going to last forever. Many people will have to decide months from now whether or not they're going to pay the light bill or get food, whether they're going to pay their rent or be able to buy clothes for the children. The Army is better positioned to address what we are calling pandemic poverty as a result of what we've learned. In addition to all the government initiatives and the institutional initiatives, individual Americans can make a difference for their neighbors with small regular contributions to the work of The Salvation Army. Those small regular contributions, taken collectively, will allow families facing pandemic poverty for several years to come to make the choices that will keep them in their homes, keep their families together, help them avoid isolation, depression and addiction. If we don't do it, I think we can anticipate those things becoming even more a feature of American life and we want to work against that ever happening.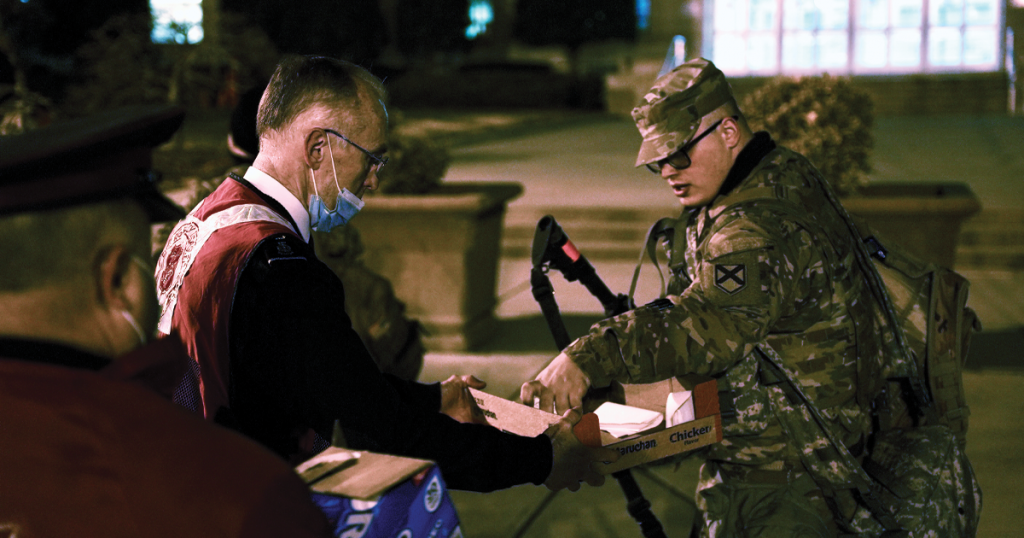 What books have you found influential recently?
JH: "Prayer is the Answer," a collection of 30 classic writings on prayer. It reminds us that prayer is powerful, that it is accessible to everyone. You don't have to be a saint. Anybody can pray, and Christ is there.
KH: A new book by Dr. Robert Putnam and Shaylen Romney Garrett called "The Upswing" challenges us to believe that this is the moment at which we can begin to reconstruct, and in a sense, reimagine what American society is going to be. And it's not going to be reimagined because of technological, economic or political reasons. It's going to happen because of the need for a moral and a cultural shift. I'm convinced that The Salvation Army is perfectly positioned to lead that effort. We have the trust of the American public. I believe we have the blessing of God. We have the personnel, the infrastructure, the experience, the geographic footprint. With our Bible in one hand and a food box under our other arm, we're going to march into the future.
We are aware of the need to involve the younger generations in the Army's work. How is Echelon, which is made up of service-oriented young adults, and the Army's National Advisory Board making an impact?
KH: I will never forget the dinner I had in Detroit with Anil Kapoor, the new head of our Echelon Leadership Council. He represents hundreds of young professionals who are saying they want to be involved personally and intimately in helping meet the needs of others. The energy with which he spoke, the vision he had for bringing thousands of young professionals to work with The Salvation Army, was thrilling and inspiring. Echelon, along with our National Advisory Board led very capably by Mike Castling, is going to play a key role in making the Army known to a new generation.
JH: We talk a lot about technology, and those things are really important. But some young officers told me recently what they really want is a relationship. That's what Echelon does, create relationships, not only among themselves but also with those that they're serving.
National Headquarters has undergone significant renovation. What do we want people to learn from the changes made to the building?
JH: My favorite is the chapel. It is very transparent. It's a mixture of traditional and modern. All the windows are transparent so anyone that drives or walks by will see The Salvation Army as worshipping. That is who we are and what we are.
KH: In a way it reflects The Salvation Army's tradition of the open-air meetings, when we would stand on the corner and play our instruments and proclaim the gospel. People can look in and see what the Salvation Army is doing. The renovation of the lobby really excites me. We had a guest for lunch recently who said he had no idea The Salvation Army does as much as it does. He learned that from the pictures displayed in our lobby. They give a sense of the Army's scope of service, its purpose, its reason for being.
One thing we've learned in the past year is that you can never over-communicate. You have to keep getting the messages out. The new recording studio, made possible by a member of our National Advisory Board, is one example of that. He came to us and said, "I need to make sure that the Army has the opportunity to reach people. How can I help do that?"
Commissioner Jolene, can you give us a preview of the manuscript you are currently working on for Crest Books?
JH: I've always been mesmerized by the word "grace." When I was a little girl, I wanted to be graceful, like Cinderella, and I had the plastic pearls and the plastic heels. When I got older, I traded in my plastic pearls for real pearls, and I wanted to be like Grace Kelly and Princess Diana. But it wasn't until I discovered God's grace for me, personally, that I realized I was looking in the wrong place. It's about accepting God's grace for my life, and then turning around and sharing that with others. The book will relate personal parables—earthly stories with a heavenly meaning—as I have attempted to make grace tangible in my life. We are products of God's grace. It's not possible to understand it fully, but I am trying to get as close as I can.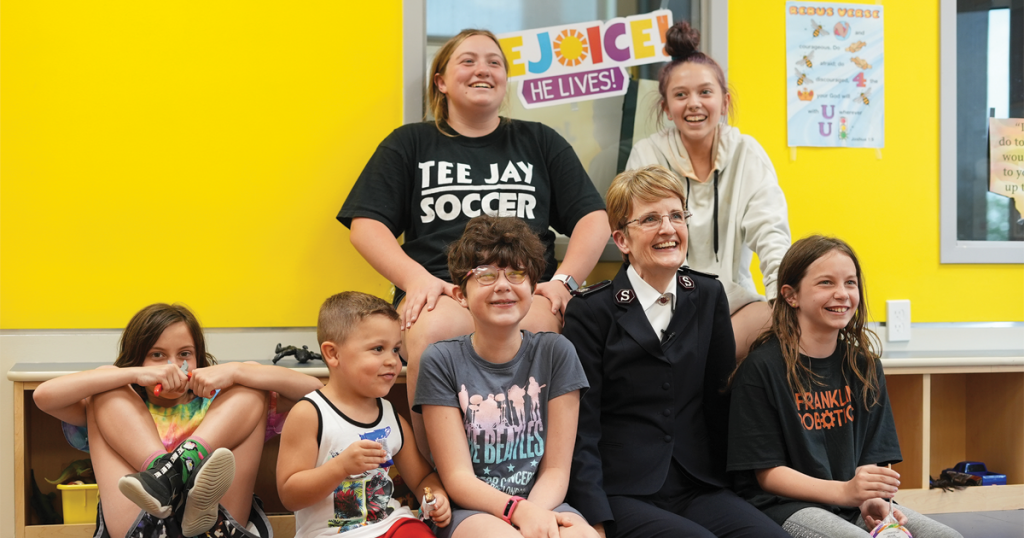 There's nothing better than God's grace. Referring to the cultural shift that you mentioned earlier as explained in the book "Upswing," what does that entail?
KH: The world is desperate for understanding, for forgiveness, acceptance. People are feeling lonely and isolated, and they're in despair. The grace of God transcends all of it. The grace of God can bathe every soul and cleanse every heart. Nothing in this world can do that. No organization, no government, no other individual. We're all in need of God's grace. And when you discover that, and your life is transformed, nothing is ever the same again.
JH: And it's daily. God's grace is not just something to experience once in a while. It's daily. All you need to do is open your eyes. It is all around us.
KH: And you don't have to work for it. The work has been accomplished. The victory has already been won by Jesus Christ on the cross. By virtue of that sacrifice, God's love is extended without condition to those who accept Him. That's why it's good news. It's not that it's good news because we've got a lot of work to do and let's work together. It's good news because it's already happened. And it's simply a matter of recognizing it and saying, "you know what, that good news is for me, too."
The wonderful thing is when you taste God's grace, when you find the forgiveness that only comes from God, you appetite for more, you want to be more like Christ, you want to be conformed to Him, you want to live in a way that's going to glorify God. It's not a matter of earning anything. It's a matter of saying, "I love the Lord so much because He changed my life. Now I'm going to try to be more of an example to others about what it is to have a relationship with Him."
As National Commander, you are a direct voice to government officials in Congress and the executive branch. What has impressed you about your outreach to these leaders?
KH: It's been humbling. Every member of congress with whom I've had an opportunity to meet has spoken in glowing terms about the Army, because the Army is active in their communities. I've heard it said frequently that "We need The Salvation Army. We want The Salvation Army to do more." Whether it is to bring people together, address homelessness, address food insecurity, there's a real desire for The Salvation Army to do even greater things in the days to come. And I have to also say, there's a real openness to prayer, and to the spiritual dimensions of the issues. I have prayed with countless members of Congress, all of whom are seeking guidance and direction from God. It's a great privilege.