Try This
Fried Salmon Burger with Molasses Mustard
Prep time: 30 minutes - Serves: 2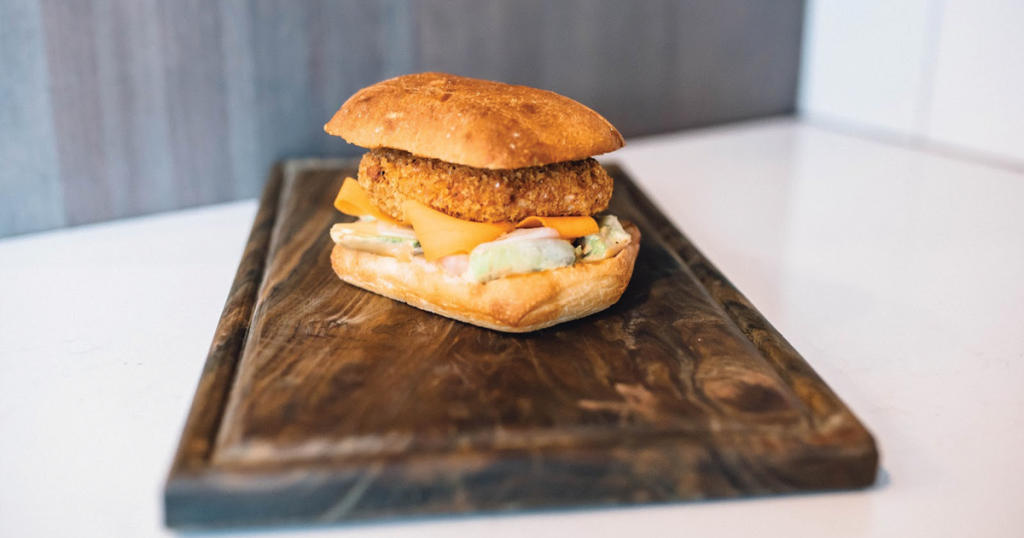 I love cooking burgers at home, but I wanted to create a burger using only seafood. I decided to go with salmon as my protein not only for nutritional purposes, but also the flavor. This Japanese inspired dish was a fun play on a baked salmon roll. The panko gave it a nice crunch and the Sriracha and Jay D's Molasses Mustard aïoli added a punch of heat and sweetness. I added some sliced avocado, pickled cucumber and pickled carrot to round out all the flavors.
Ingredients
2 salmon fillets, boneless, skin-off
½ onion, small diced
2 tablespoons fresh garlic, minced
1 tablespoon avocado oil
2 eggs
2 cups seasoned panko breadcrumbs
1 cup all purpose flour
2 hamburger buns
For the aïoli:
¼ cup Jay D's Molasses Mustard, jayducote.com
2 tablespoons Sriracha
½ cup mayo
Garnishes:
Sliced Avocado
Pickled cucumber
Pickled carrot
DIRECTIONS
Heat a sauté pan on medium heat, add avocado oil and saute onion and garlic until soft.
Add fillets to the pan and cook salmon on both sides until cooked through and starting to flake (about 10 minutes).
Put salmon, onions and garlic in a bowl and let cool.
Add one egg and ½ cup of breadcrumbs in the bowl and form into patties. If patties don't form, add more breadcrumbs until they stay together.
Next, you'll need to set up a breading station. You'll need flour in a shallow dish, another dish with the beaten egg and one additional shallow dish for panko.
Dredge patties lightly in flour, shaking off the excess. One by one, dip in the beaten egg, coating completely and then roll in panko to coat.
Fry at 350˚ F until golden brown. Build burgers with garnishes and aïoli and enjoy!