Army Archives
How the Territories Got Their Shapes
"With only minor adjustments, the basic borders have remained the same since 1927."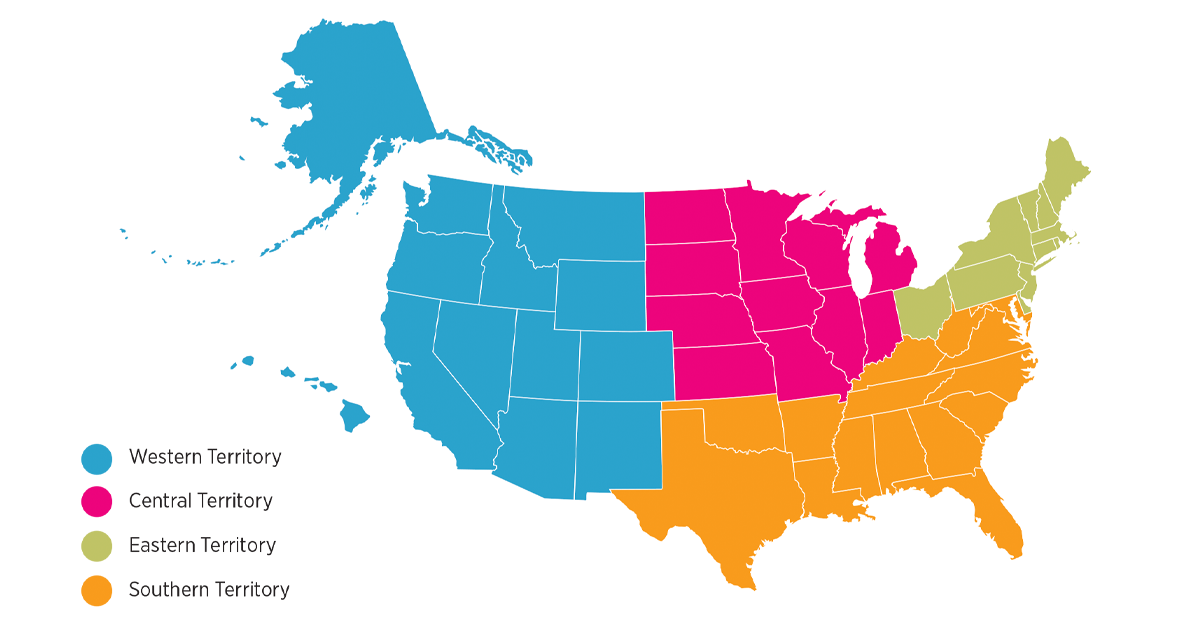 When The Salvation Army came to America in 1880, it was only active in two places, Philadelphia and New York. However, it quickly expanded and stretched across the country, growing by leaps and bounds, or wherever the train (or stagecoach) stopped next.
The United States territory existed until November 1904, when it was decided that the U.S. would be divided into an Eastern and Western territory. The western territory would be based in Chicago and be under the leadership of a lieutenant- commissioner. The western leader would report to the new National Commander Evangeline Booth still based in New York and still governing the eastern part of the country.
As The Salvation Army grew and the size of the country became truly known, it was felt that a new administrative structure should be adopted. World War I put a temporary hold on any further divisions, but by 1920, the pressures of the expanding Army began to show. In October 1920, the U.S. was separated into three distinct territories (East, Central and West) with a dedicated National Headquarters to coordinate between the territories. Evangeline Booth remained the "Commander," but the three lieutenant-commissioners had control over their own territories.
At this time, the first coordinating "Commissioners Conference" was held. This tri-annual meeting of the territorial commanders and chief secretaries still continues to this day. By 1926, General Bramwell Booth decided that another division was necessary. The long distances that officers had to travel was one factor. Another factor was the continued growth of The Salvation Army post-WWI. The new Southern Territory would be carved out of the Eastern and Central territories. The border of the Western Territory would remain the same.
With only minor adjustments, the basic borders have remained the same since 1927. In Kentucky, the eastern part of the state (including the capital of Frankfort) was apportioned to the eastern territory in 1926, but by 1990, all but 10 counties were re-apportioned back to the south. In Texas, El Paso stayed with the western territory until the early 2000s. For the immediate future, the four territories as we know them will remain as they have been for nearly 100 years.
To read more about this and other Salvation Army stories, check out McKinley, Edward H. Marching to Glory: the History of the Salvation Army in the United States, 1880-1992. W.B. Eerdmans Pub. Co., 1995.