Frontlines
Kroc Center Partners with Gold Medalist Michael Phelps to Promote Mental Health Awareness
"We've pivoted so that a great deal of our efforts go toward the mental health crisis."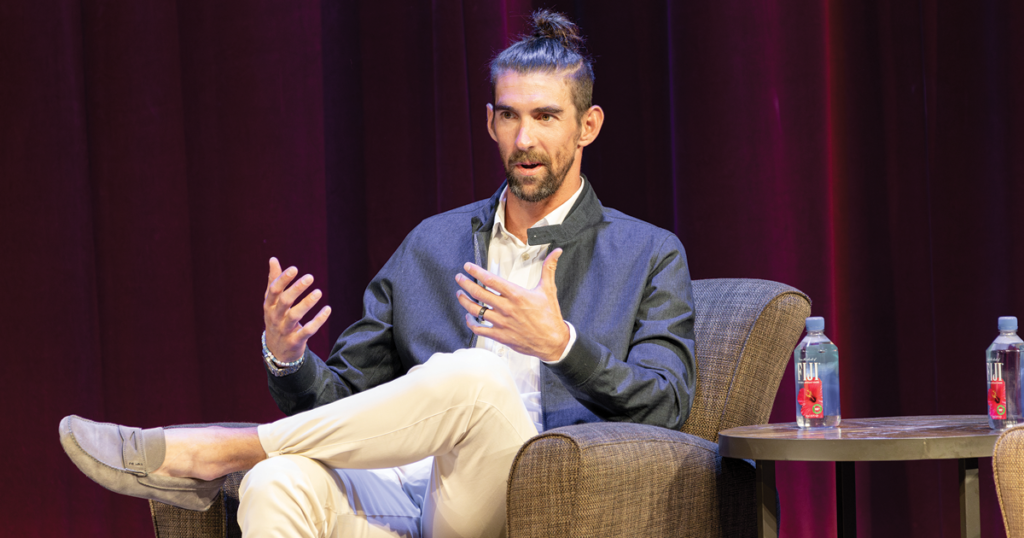 Coeur d'Alene, ID — In late May, the Coeur d'Alene (CDA) Kroc Center hosted the Swimming Against Stigma event, which was visited by Olympic athlete and legend Michael Phelps. The event was a collaboration between the Kroc Center and the local Interact Club, the Rotary Club's youth organization, which was started last year by a group of proactive high schoolers. Amy Voeller, who is the development director at the Kroc as well as a Rotarian, was asked to sit in on a meeting with the Interact Club and hear more about their ideas. Their chosen focus for the year was youth mental wellness, so they had reached out to the Michael Phelps Foundation to see if the athlete would consider going to Coeur d'Alene to speak to high school students about mental wellness, as he has been a notable advocate on the subject in recent years. Because the idea aligned with the Kroc Center team's ongoing efforts with the mental health crisis, Voeller offered the facility to host Phelps and the Interact Club.
When the Michael Phelps Foundation said yes, everyone worked quickly to put everything together in time and promote the event. It was open to the community, with all revenue going back to Interact to help pay for Phelps' appearance to speak there and at two local high schools. The Kroc team also invited other organizations and sponsors from the community that provide support and resources for mental health to set up tables in the lobby during the event, so that everyone who visited could be aware of what help was available to them to address their needs.
"The conversation here that evening included a recap of his athletic career and his experiences at the various Olympics and then segued into his struggles with mental illness and what he's learned through that," said Voeller. "His wife, Nicole, came with him, and was able to talk about what her experiences have been in supporting him through that journey and also taking care of herself, so she could be as helpful to him [as possible]."
The next day, Phelps went to assemblies at both local high schools to talk on the same topics, where both the entire student bodies, as well as some middle school swimmers, came to hear him speak.
Michael Phelps' visit, however, is only a recent highlight in the CDA Kroc team's campaign for mental wellness. They recognized some time ago the alarming rate at which the need for mental health support services has been rising throughout the country, and it has been no different in their own community. And while the need rises, the available resources continue to dwindle.
"Our team here at the Kroc Center, as a whole, has always found that we've been most impactful when we look to not reproduce existing resources. We try not to be redundant, but to find a void or a niche," said Kip Sharbono, the center director. "We noticed that we have a higher-than-normal suicide rate here in northern Idaho amongst our youth. I prayed about it and looked at the opportunity to how we might play a role in engaging in the mental health crisis."
At the start of the year, the Kroc Center was able to add a youth and family support specialist, Tyson Durbin, to the staff. As a licensed clinician, he's been building a new mental health model to support the CDA community, one that provides one-on-one counseling and group counseling as well as a robust educational offering. The Kroc team was able to secure enough funding to allow Durbin to also offer his services in local middle schools, where school counselors, who do amazing work, often are only able to focus on emergencies but can't address the root issues in a student's life. In addition, grant funding has also enabled the Kroc Center to offer Durbin's services at just 15% of the regular rate for families at lower socioeconomic levels. The program is still changing and growing at a rapid pace.
"We realized that the vast majority of individuals and families with whom we work constantly talked about the underlying issues and ailments usually stemming from some kind of mental health struggle," said Sharbono. "We've pivoted so that a great deal of our efforts go toward addressing the mental health crisis rather than rental assistance and those other assistance pieces, knowing that those have always been good, but they tend to feel like a temporary bandage over a bullet hole."
While still providing rental assistance and other social services, the goal has become to walk alongside the clientele to help them address their problems on a more foundational level. Both the Kroc staff and the community have responded well to Durbin's presence. Between word of mouth and his work in the middle schools, his caseload is full and there's a waitlist to boot. Other providers and organizations have begun reaching out to partner with the Kroc in their unique offerings and there are now plans to bring on interns from a university in Montana to continue to expand the program.
Partnering with the community in such a profound way has already produced wonderful results and it is a perfect example of The Salvation Army capitalizing on our unique ability to provide timely assistance. With more plans to educate the CDA community on mental wellness and to seek out the opportunities to help, Voeller said, "This is a need and we are well-positioned to step into that need." 
Image by Ashley Chaffin