Healthy Habits
Marriage Breakthrough
"May the hinges of our love never grow rusty."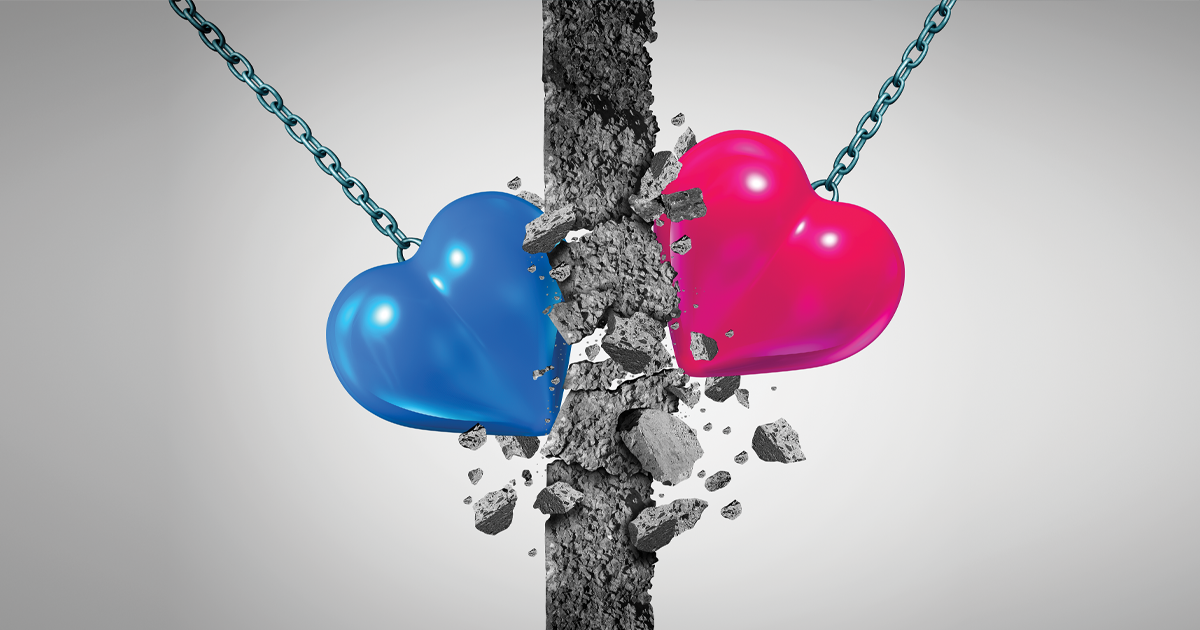 The one great secret of marriage is love. The Apostle Paul explains that God calls us to love our spouses as Christ loves the church. "Submit to one another out of reverence for Christ…A man leaves his father and mother and is joined to his wife, and the two are united into one. This is a great mystery, but it is an illustration of the way Christ and the church are one" (Ephesians 5:21,31-32).
Love is not natural, it's supernatural. We can't extend such love without God's help. Our ability to love depends on allowing Christ to help us and to change our hearts. As we teach ourselves to expect help from God first and not our spouse, we have opened the door to great blessings.
Corrie Ten Boom, a great Evangelist and survivor of Hitler's concentration camps, would begin her talks by dumping a bag of "her troubles" on a table on the stage and then one by one prayerfully give them to God. As she relates in her classic book "The Hiding Place," she would find a corner in the camp that was so squalid that the guards would not enter. There she would give thanks to God and unload her burdens on Him amid the horror around her. The same God that helped Corrie find peace in the concentration camp can help with even the most difficult marriage.
For most of us, one of the most difficult things to give God is the criticism we direct at a spouse. Research pinpoints criticism as a primary predictor that a marriage won't last. When we are criticized, most of us turn to retaliation. A good prayer at that moment is, "God, I know my spouse is far too critical, but what about me? If I'm picking on my mate, please help me recognize it and replace it with blessings and encouragement."
Focusing on our own shortcoming, has saved many marriages and certainly endears the soul to God. When we can't erase a bad habit or shortcoming we can ask God to help us replace it. A good scripture to keep on display is, "Instead, let the Spirit renew your thoughts and attitudes. Put on your new nature, created to be like God—truly righteous and holy" (Ephesians 4:23-24).
In short, God's way is not to erase bad habits but to replace them with Himself.
Once we have asked God to help us overcome our critical nature, the best second step is to make a list of compliments, or at least a blessing or two. Then when you do criticize your spouse (constructively, of course), you'll also have a compliment or blessing to go with it. A passage such as Numbers 6:24-26 might help: "May the Lord bless you and protect you. May the Lord smile on you and be gracious to you. May the Lord show you his favor and give you His peace."
At least say, "May the hinges of our love never grow rusty." Now is the time to put down this article and make a list of things you love about your spouse. Save it, then memorize your favorites, some kind words to fill your mind when you want to frown and fume.
A third step is to put yourself in your spouse's position. Look past their behavior and focus on their needs. Pray that God helps you understand what sets off their fuse. The more we understand the feelings of our significant other, the easier it will be to forgive and pray for them.
Consider giving your home a Bible makeover. Good Bible verses to post strategically are:
"Most important of all, continue to show deep love for each other, for love covers a multitude of sins."

1 Peter 4:8
"This is my commandment: Love each other in the same way I have loved you."

John 15:12
"Make allowance for each other's faults, and forgive anyone who offends you. Remember, the Lord forgave you, so you must forgive others."

Colossians 3:13
Starting and ending each day with a Bible verse is probably one of the best marriage helps of all.
Another step to a marriage makeover is to sharpen problem solving skills—looking beyond the behavior to understand the cause. Some years back, I asked the respected psychologist Dr. Carl Menninger, founder of the Menninger Foundation, what he had learned about anger. He didn't miss a beat. "Two things–first, anger is a secondary emotion. No one can manage anger without looking for what is underneath. Second, even very young children learn quickly that, though anger never makes a problem go away, it does make people go away. If children grow up getting rid of relationships instead of trying to solve problems, the adults are surely doing the same thing." It can be difficult to identify the root causes of anger. A Christian counselor can often be a great help.
The next step is to get connected. My mother and grandmother belonged to a group called The Union Club. Women from the neighborhood would meet the first Wednesday of every month. Sometimes they had a speaker. Other times they just ate, talked and prayed together. For those who don't live in such a neighborhood, consider making such a group. Take a copy of Titus 2 to the pastor of your church and ask his help in forming a group. The scripture in Titus 2 is very clear: the older women of the church, women who have learned how to make marriage work, are to counsel and pray for the younger women. God gives the same command to men."
"If one person falls, the other can reach out and help. But someone who falls alone is in real trouble!" (Ecclesiastes 4:10). Turning to friends in the church is an important part of God's help.
In short, miracle helps for marriage include the following:
1. Love is not natural. It is supernatural.
Before criticizing your spouse, take the problem to God. Your partner is only human. Accept Christ's help to transform hearts.
2. Replace criticism with affirmation.
The best, perhaps only, way to get rid of a bad habit is to replace it. Our favorite new habit is to catch your spouse doing something right instead of something wrong.
3. Be prepared.
Make a list of what you love about your spouse and rehearse some phrases that you can call on when things get tense.
4. Put yourself in your spouse's position.
If you don't learn to understand your partner, how could you hope to know how to love and pray for him or her?
5. Give your home a Bible makeover.
Place verses about the resounding beauty of love strategically around the home as reminders of God's call and care.
6. Learn problem solving skills.
Anger doesn't make problems go away, it just makes people leave you alone. Try to understand the cause beyond the behavior. A Christian counselor can help.
7. Get connected.
Find some people (in your church or community) to connect with so you can lift one another up.
---
J. Charles White is a retired Christian preschool teacher and a frequent volunteer at the Army's Topeka, KS Citadel. He is also a web editor of bibleparent.com and teachustopray.com.