Frontlines
Nothing But Net with Michael Redd
Success Trifecta For Former NBA Olympian Star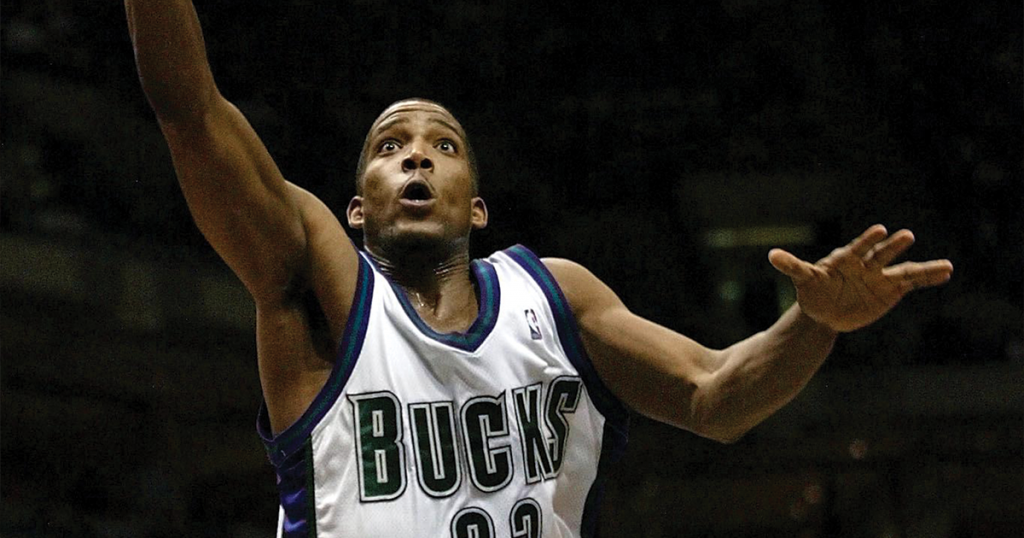 Faith in God is the secret of Michael Redd's success in sports, business and philanthropy. His relationships mirror his walk with Christ and his Christian ethic has been the model for all he undertakes in life.
The son of a pastor/basketball player, Michael's life has been heavily influenced by his father. "My dad has been a minister for 45 years," Michael says. "So, I had no choice but to go to church when I was a kid growing up. Then one day, when I was 13 years old, I made the move to the altar to give my heart to the Lord." An even deeper commitment to Christ came at age 22.
Basketball became his favorite sport at the tender age of seven. In the seventh grade, he and a childhood friend vied for a team jersey with the number "22" on it. When the friend changed to another jersey with "24," Michael's identification with twenty-two became something of a moniker. He even named his global business 22Ventures two years ago.
The six-foot, six-inch forward/guard's career blossomed at West High School in his native Columbus, Ohio. Later, at Ohio State University (1997-2000), Michael led his team to the NCAA Final Four. He was then drafted after his junior year in the 2000 NBA Draft as a second-round pick (43rd overall) by the Milwaukee Bucks, where he played eleven of his twelve seasons before signing with the Phoenix Suns for his final year before retiring in 2013.
"I went to work (in my rookie year) to make the team in Milwaukee. My career just really escalated with a lot of great mentorships and belief in (my) coaches, and obviously the foundation of faith in God. And so, things begin to happen and lo and behold, I was the face of the franchise after a few years."
Michael was named to the NBA All-Star team in 2004, and then wound up becoming an All-NBA Player. This led to his being named to the USA Men's Basketball Team for the 2008 games. His overall NBA statistics for his twelve seasons are stunning: 11,972 points; 2,411 rebounds; and 1,338 assists. Always a fan favorite, Milwaukee Bucks fanatics gave Michael a standing ovation when the Suns came to town on February 7, 2012.
Equally impressive for Michael is his participation in the 2008 Olympic competition in Beijing. Dubbed "the Redeem Team" (the US lost the gold medal bid in 2004), Michael stood on the gold medal stand with teammates Kobe Bryant, Jason Kidd, LeBron James, Chris Paul, Carmelo Anthony, Dwight Howard, Chris Bosh, Dwyane Wade, and others. Standing on that world stage, with Olympic gold hanging on their necks, Michael says he felt tremendous gratitude.
"All of us had been together for three years prior to that moment. And all of us were emotional and we represented something bigger than ourselves. That really hit home; it resonated with all of us, and it was an incredible experience. One that has bonded us together because of the brotherhood."
Michael's success shifted from the basketball court to becoming an entrepreneur. He founded 22Ventures several years after his retirement from the game, centering on teambuilding within companies, large and small, in order to solve problems and promote growth. To start his company, Michael first had to decide on a name. He kept going back to his jersey number and the fact that his own venture would help grow the dreams of hundreds of others. To date, there are over 85 investments in companies within the tech and media industry.
"It is an investment firm. We really love investing in people, and growing companies. So, there are a number of companies in our portfolio. We've (also) invested in startups. We have also invested in companies that have hit Series A level. But more importantly, we really want to invest into people and see people's lives, holistically detached, and impacted by change. Because we believe that the healthier the person is, the healthier the business (will be)."
When it comes to the success of any given business, relying on industry analysts and good networking contacts can only take that company so far. An ongoing business mentor, on the other hand, is proven to have a direct and positive impact on the growth of the company over time. That is where 22Ventures comes in.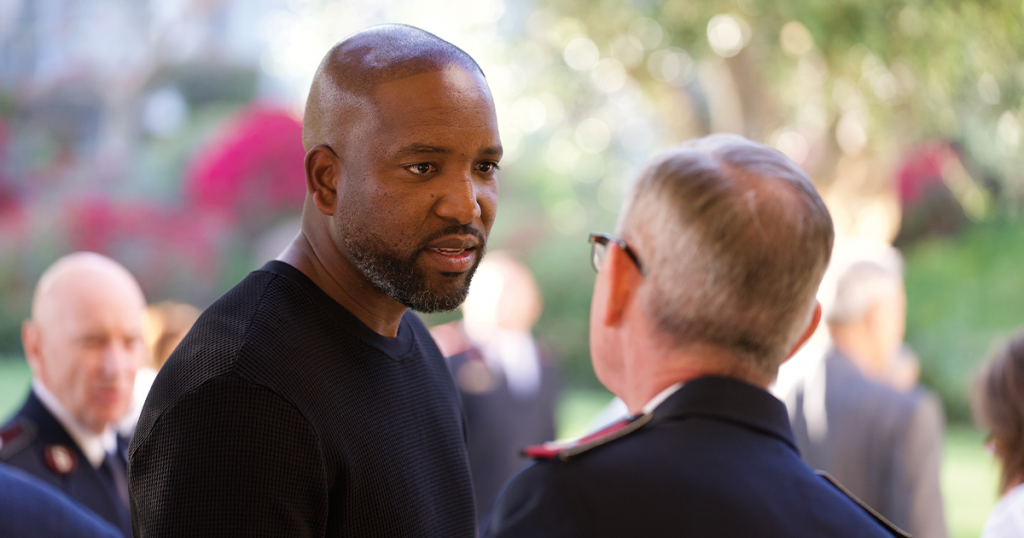 "There is a notion out there that you grind and grind and grind until you become successful. But really, are you successful if your wife's not happy with you? If your husband's not happy with you and your kids and grandchildren?"
"And what if you have health and mental [health] issues? There are a lot of issues that entrepreneurs and founders go through that go unaddressed. Getting a return on capital is important—absolutely, but we also care for the person and so that is the genesis of 22Ventures." Michael's brainchild is invested in companies all over the world, creating what he calls "an empathy economy."
"We invest in people and their families, and our notion is to really work smarter, not harder," he explains. "There's a lot of things that we try to do with our founders and leaders to equip them and also allow them to become healthy people—which leads to, we believe, a healthy business." Team building is an important aspect of 22Ventures.
"I'm big on team," he says. "I look at what problems they are solving. I want to see that the experience of the team (is healthy) and also a level of humility as we advise and help. Are they willing to pivot? Are they willing to listen? Are they willing to kind of act just a little bit on just some of the advice?"
He adds that for him, the element of success for 22Ventures is not only continuing to expand the company portfolio or becoming profitable, but that people's lives are being touched and impacted.
"Over the years, we have mentored several startup incubators around the world and have advised scores of early-stage companies. Whether you are the CEO of a large corporation or the founder of a small business looking to get started, we amplify your company using our valuable connections, entrepreneurial experience, and timely advice—but more importantly, we care about your wellbeing."
While 22Ventures is not about proselytizing people to Christianity, living out their faith is proving to be a powerful silent witness among the company's clients. Once they see Jesus in us, he says, their contacts begin to ask questions. As an example, he cites one CEO client, a frequent golf buddy.
"The first time we played golf together, we're hanging out and he says, 'Mike, what are you into? What are you doing?' I, in a joking way, said to him, 'We're here to play golf.'"
The same question kept coming over the next few weeks until one night, the phone rang. His friend was having issues within his marriage.
"'Mike, I really need to know what you're into,' he said to me. And I thought, Now you're ready to hear—and I began to share my story and journey with God and where I have come from, and also, what my wife and I have gone through."
Building relationships prepares the hearts of those in need of a Savior for that moment when they are ready to begin hearing the Gospel, he believes. As Christ-disciples, we need the ability to, more than anything, share without talking, let our lives exemplify Christ.
"I find myself in these different spaces and opportunities, and I start praying, 'Lord, allow me to be Christ in these moments and let people walk away from me with more questions (about God) than answers.' That makes a life-seeking discovery. So that is the whole goal!"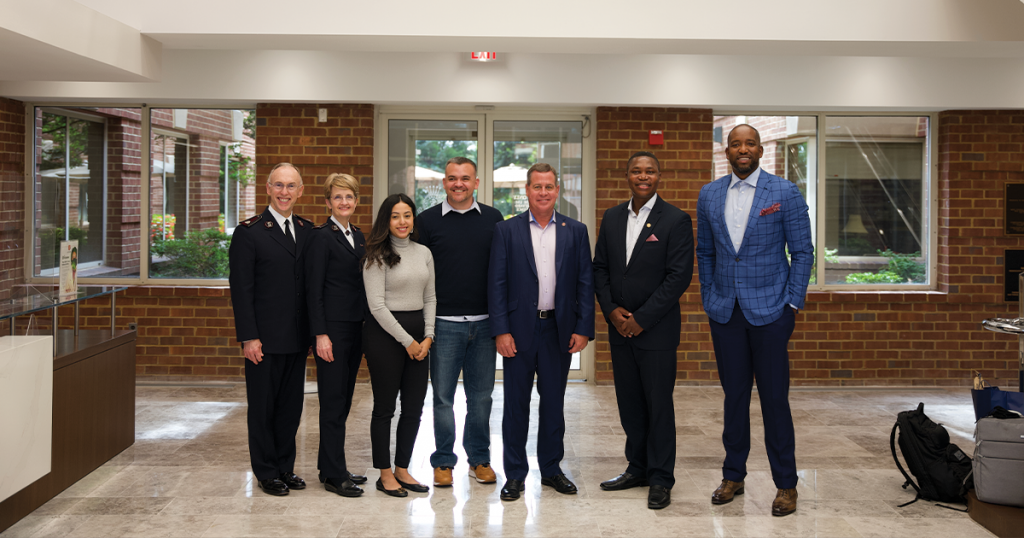 Not resting on successful laurels in sports and business, Michael became a partner in ministry with The Salvation Army as a member of the National Advisory Board.
"I didn't know much about The Salvation Army at all," he says. "I knew that it was doing tremendous work around the world, but I did not know how vast and did not know where the organization was and all that. So, I was completely naïve, knowing only that they were available during Christmas time with the red kettles, and obviously, the thrift stores. For me, being on the National Advisory Board is an incredible journey." Michael also didn't know that The Salvation Army is a church before joining the National Advisory Board.
"I think getting the word out to the younger generations is something I am really passionate about. Whether it be social media or virtual reality—those things are on my radar. Oh, and we must equip the next generation for serving in and through the Army."
Michael wants to target Millennials and Gen Zers and reports that National Advisory Board meetings are addressing this goal. His work with Echelon is mobilizing the next generation for The Salvation Army by providing opportunities for young adults to engage with the organization through fellowship and networking, donations and fundraising, and service and volunteering.
"I think it's important for National Advisory Board members to continue to develop relationships outside of our board meetings," Michael says. "It is important to have that cohesion and chemistry, and to get a chance to know each other outside the boardroom. We are seeing that being accomplished. I am really excited about [the Army's] future."
Like everything else he's undertaken in life, Michael's partnership with The Salvation Army is paying dividends.
"I am proud to be a part of the National Advisory Board and to be a member of an organization with such a focus on the future. I am excited about getting a chance to see where the Army is going. I think we are in an incredible position right now to make more impact globally, and for sure, obviously in the United States."