Frontlines
Off-Road Vehicles Expand Emergency Services
Contribution by Polaris Key to Recovery.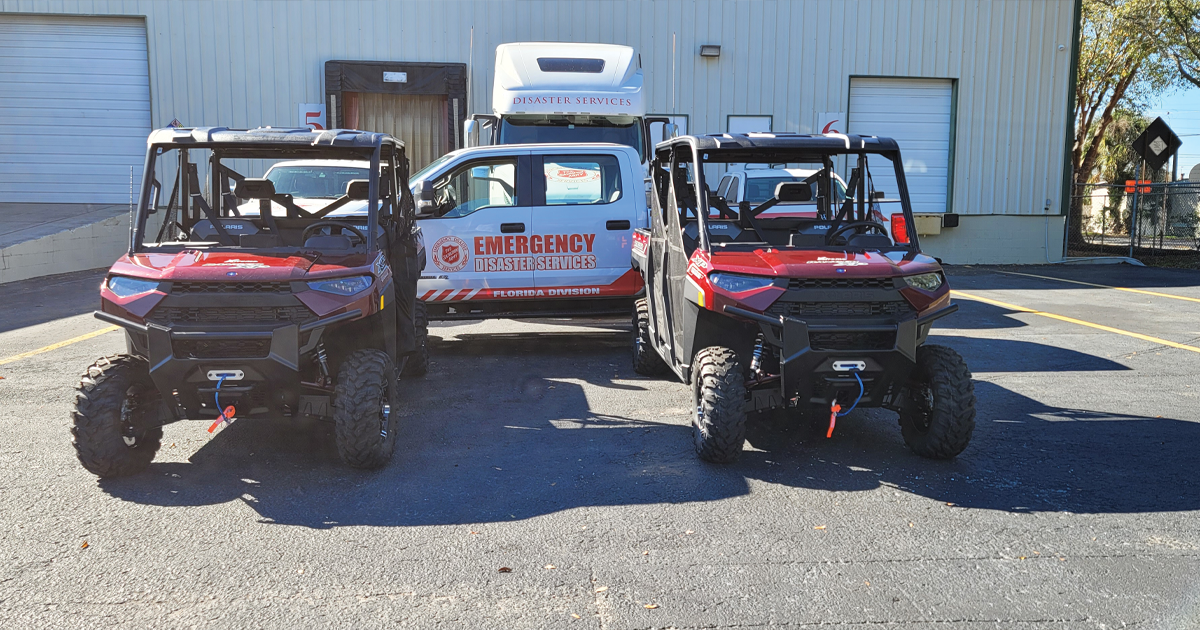 Salvation Army emergency personnel can be relied upon to reach those in remote areas where access is limited due to impassable roads and destruction of infrastructure. This proven ability to deliver emergency supplies into remote areas of need has greatly benefited from the Army's partnership with Polaris. Over the last nine years, Polaris' contributions of nearly $1 million in off-road vehicles and equipment has enabled emergency personnel to respond with immediate aid, whether the need is due to wildfires, earthquakes, floods, hurricanes or the COVID-19 pandemic. Last year alone, Polaris contributed 17 off-road vehicles to assist in the Western and Southern Territory's response to the country's worst hurricane and wildfire seasons in recent history. Polaris' vehicles have also been an asset during search and rescue operations and long-term recovery and cleanup processes communities are often faced with after disaster strikes.
The partnership with Polaris translated into rapid response for victims across the country, such as after Hurricane Sandy in 2012, tornadoes in Oklahoma in 2013, Hurricane Matthew in 2016, fires in the South and West in 2021 and most recently winter storms in Texas earlier this year.
"We can't thank our partners like Polaris enough for the aid they provide to help immediate and long-term recovery needs," says National Commander Commissioner Kenneth Hodder. "Not only does it enable us to assist communities as they rebuild during long-term recovery processes, but it also inspires hope."