Try This
Recipe: Rice Fritters "Arancini"
Prep time: 10 minutes | Cook time: 35 minutes | Serves: 10
"Arancini" are small balls of rice that come from Sicily, where they are most commonly served as appetizers. They can be made with a variety of different fillings including cheese, meat sauce, peas, sautéed mushrooms, prosciutto, or olives to name a few.

Prep time: 10 minutes | Cook time: 35 minutes | Serves: 10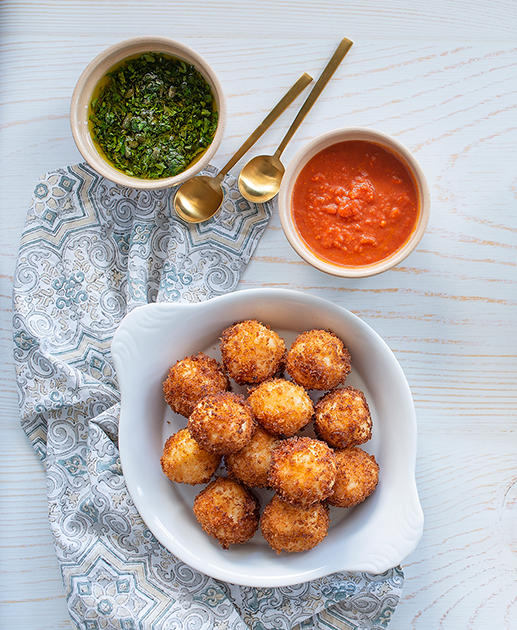 Ingredients
¼ cup butter
2 medium onions, finely chopped
2 cloves garlic, finely diced
3 cups Arborio rice
7 cups chicken stock, warm
1 cup Parmesan cheese, finely grated
2 medium eggs, beaten, for the rice mixture
1/2 cup breadcrumbs
Filling
1 ½ cups Fontina or Mozzarella cheese, cut into ½-inch cubes
Breading
4 medium eggs, lightly beaten with a pinch of salt for the breading
4 ½ cups breadcrumbs
3 cups vegetable oil, for frying
Salsa Verde
3 tablespoons olive oil
1 teaspoon lemon zest
1 tablespoon capers, drained and chopped
1/3 cup parsley leaves, chopped
2 mint leaves, chopped
Salt and pepper, to taste
Directions
In a pan, melt the butter and sauté the onions and garlic over medium heat until soft, about five minutes.
Add the Arborio rice and stir until lightly toasted. Cook for three minutes and start, slowly, adding the chicken stock in ½ cup increments, stirring until each pour is absorbed by the rice and then adding more. Cook until the rice is al dente.
Remove the pan from the heat and add Parmesan cheese, 2 medium eggs, and ½ cup of breadcrumbs. Let rest.
TO FORM THE BALLS: Spread a thin layer of the rice on the palm of your hand and place a cheese cube in the center. Close the rice around the cheese, patting it into a ball shape Place the rice balls on a cookie sheet lined with parchment paper. Dip each ball in the beaten egg and roll in breadcrumbs.
Head the getable oil in a deep frying pan and dip the rice balls, a few at a time, cooking until lightly golden brown. Serve warm with a side of homemade marinara sauce or salsa verde.
TO MAKE SALSA VERDE: Add all ingredients together in a bowl. Mix well.
Food photography © Stephanie Mullins with styling by Teresa Blackburn. Excerpted with permission from A Place at the Table by Kelly Minter. Copyright 2019, B&H Publishing Group.