Try This
Recipe: Stir Fry Rice Noodles
Daniel Kennedy shares his Stir Fry Rice Noodles recipe!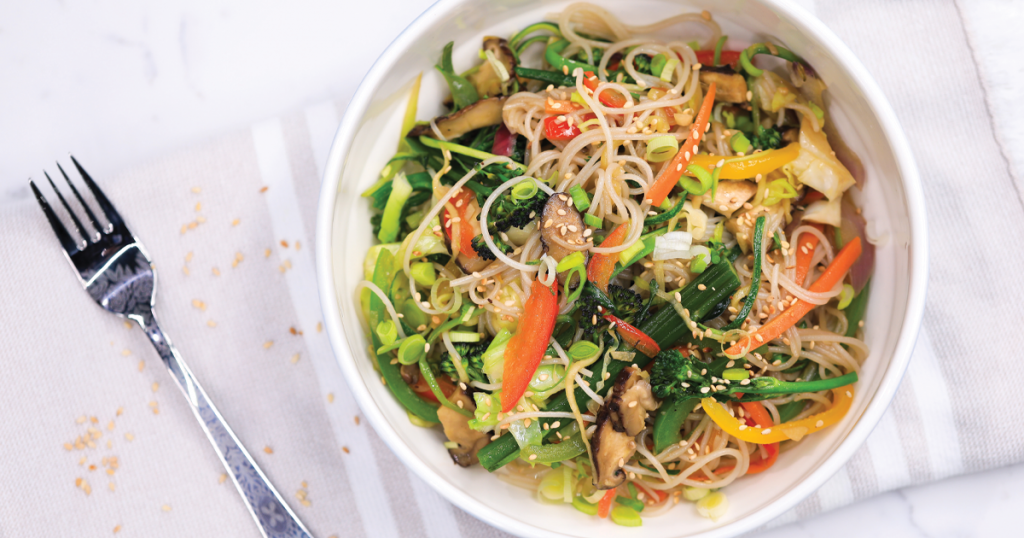 Ingredients:
For the stir fry vegetables
2 tbsp sesame oil
4 garlic cloves minced
1 tbsp fresh ginger
1 medium red onion sliced
1 cup red bell pepper sliced
1 cup yellow bell pepper sliced
1 cup green bell pepper sliced
1 cup carrot julienne
1 cup green cabbage sliced
1 cup broccolini
1 cup zucchini julienne
1 cup shitake mushrooms diced
For the noodles
1 tbsp avocado oil
3 cups cooked vermicelli rice noodles
1 tsp monk fruit
1 tsp garlic powder
1 tsp onion powder
2 tbsp Braggs aminos
To garnish
1/3 cup scallions, finely chopped
Sesame seeds
Directions

Heat a large skillet over high heat until very hot, add sesame oil, garlic, ginger, onion and stir often until golden brown, then add all vegetables and keep stirring about 5 minutes, it´s ok if they are still crunchy, they will get another few minutes to cook at the end of the stir fry. Transfer then to a plate and set aside.
Heat 1 more tablespoon of oil over high heat, add the rice noodles, stir fry and season with onion powder, garlic powder, monk fruit and liquid aminos.
Return the vegetables to the skillet with the rice noodles. Cook stirring often until everything is combined and hot and the vegetables are just tender, about 4 minutes.
Turn the heat off, serve and garnish with finely chopped scallions and sesame seeds, serve right away.