Try This
Recipe: Taco Salad
Prep time: 30 minutes - Cook time: 9 to 12 minutes - Serves: 8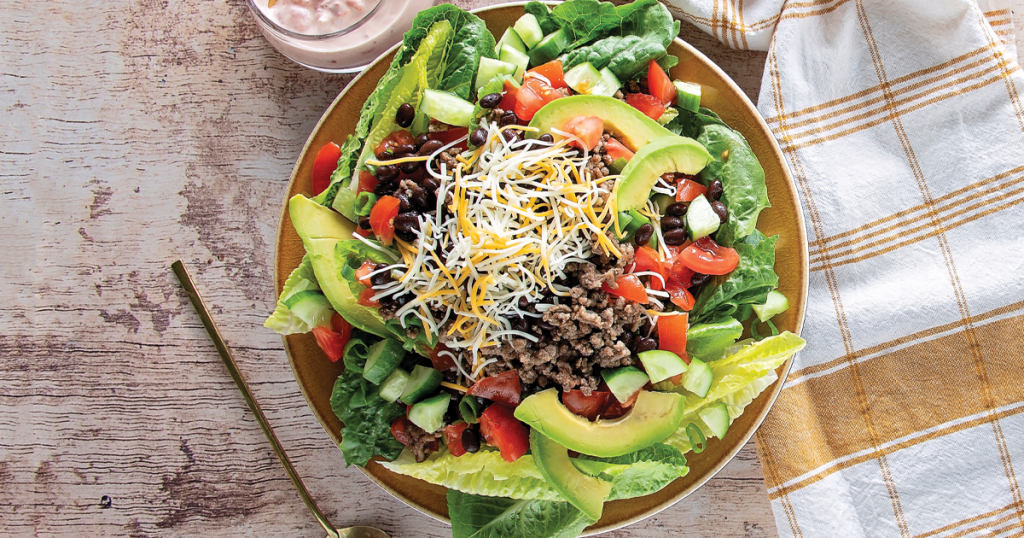 The dinner table wasn't just a place for us to share our own stories; it was also a place where we were thought to think about the needs of others. Along with thanking God for our meal, we'd often pray for people we knew were hurting, and then through conversation, we kids would hear about the ways our parents were helping in those situations. All of those things and more were shared while eating together. In the subtlest ways, our mealtimes nourished our souls as much as our bodies.
Ingredients
Meat:
1 pound ground beef
1 tablespoon chili powder
1 teaspoon ground cumin
½ teaspoon onion powder
½ teaspoon garlic powder
¼ teaspoon dried oregano
¼ teaspoon paprika
¼ teaspoon ground coriander
1 tablespoon olive oil
Salt and pepper, to taste
Salad:
1 head romaine or red leaf lettuce, chopped
1 cup tomatoes, chopped
1 cucumber, chopped
2 tablespoons green onion, chopped
2 tablespoons cilantro, chopped
1 (15 ounce) can black or pinto beans, rinsed and drained
1 cup Mexican cheese, shredded
Optional: 1 picked jalapeno
1 avocado, peeled, pitted and sliced
Dressing and sides:
½ cup sour cream
1 cup salsa
Bag of tortilla chips
DIRECTIONS
Combine the ground beef with chili powder, ground cumin, onion powder, garlic powder, dried oregano, paprika, and ground coriander, mixing with your hands until well combined.
In a large skillet over medium-high heat, heat the olive oil. Add the ground beef and fry, breaking up the meat using a wooden spoon. Stir constantly as the meat cooks, until the beef is completely browned, 9-12 minutes. Keep warm.
In a large salad bowl, add lettuce, tomato, cucumber, green onion, cilantro, beans, Mexican cheese and optional pickled jalapenos. Toss to combine.
Add the ground beef to the salad mixture and toss again. Add the pieces of avocado on top.
In a small bowl, mix the sour cream and salsa and drizzle over salad. Serve with tortilla chips.
Excerpted with permission from "A Place at the Table" by Kelly Minter.
© 2019, B&H Publishing Group.