Frontlines
The Army at Large: October 2022
The Salvation Army's ministry spans 133 countries. Here's a look at how the Army is doing the most good worldwide.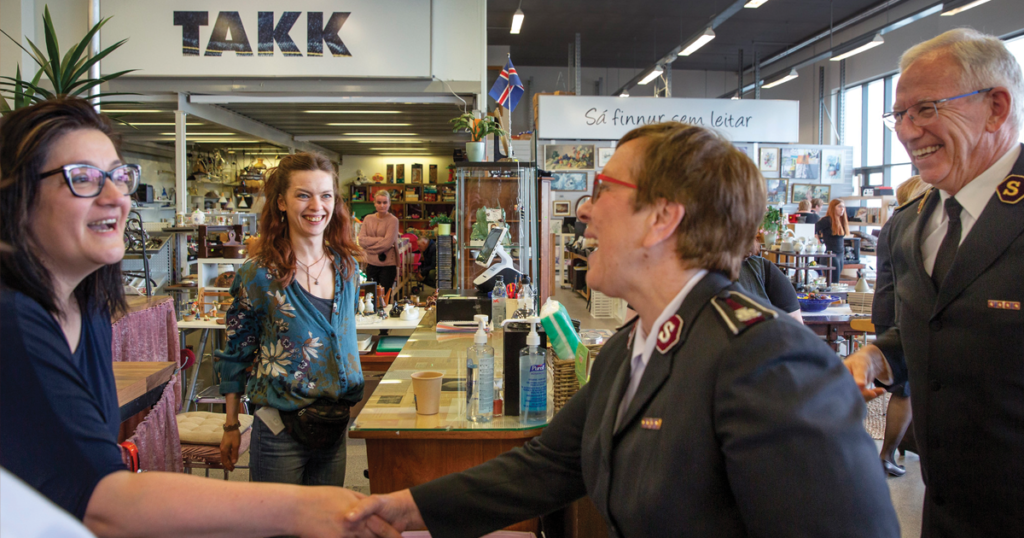 REYKJAVIK, ICELAND
At the beginning of the summer, General Brian Peddle and Commissioner Rosalie Peddle had a nine-day trip across the Norway, Iceland and The Færoes Territory. Their trip began in the capital of Iceland, Reykjavik, where they were greeted by Icelandic president Guðni Th. Jóhannesson and district offi cer Captain Hjördís Kristinsdóttir. They travelled to the Færoe Islands, where they met dedicated Salvationists and visited Herbergið ("The Shelter"), a rehabilitation center, as well as Eiði, a former Viking settlement. There, The Salvation Army operates the only young adult rehabilitation center in the country. The Peddles ended their trip with a moving worship service in Oslo, Norway.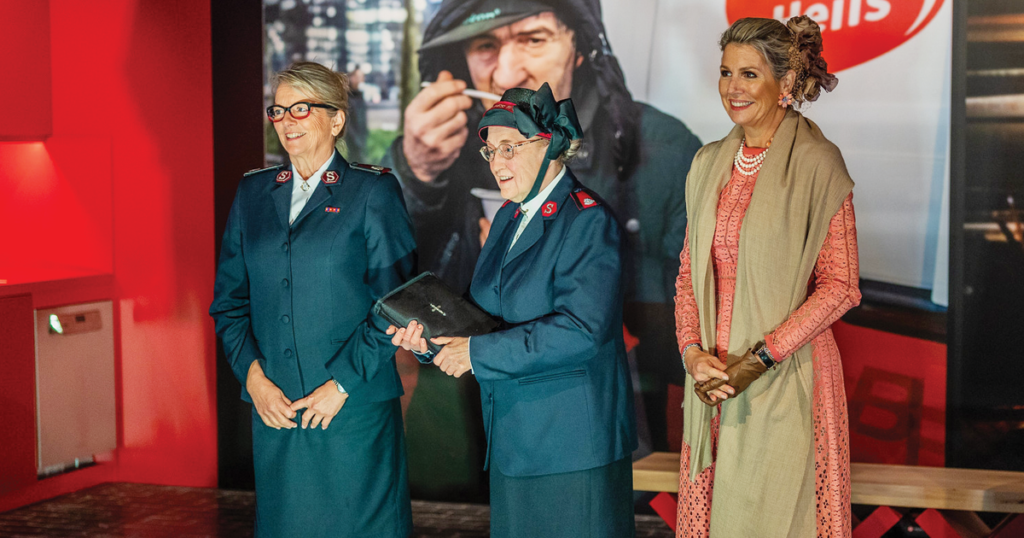 AMSTERDAM, NETHERLANDS
In honor of the legacy of ministry left behind by Lt. Colonel Alida Bosshardt (known as "De Majoor" or "The Major"), Queen Máxima of The Netherlands officially opened The Salvation Army's Majoor Bosshardthuis (Major Bosshardt House). The facility is where Lt. Colonel Bosshardt used to shelter vulnerable people from Amsterdam. Queen Máxima also unveiled a wax statue of Lt. Colonel Bosshardt in her traditional Salvation Army uniform. There was also a special church service held to honor De Majoor's life and work.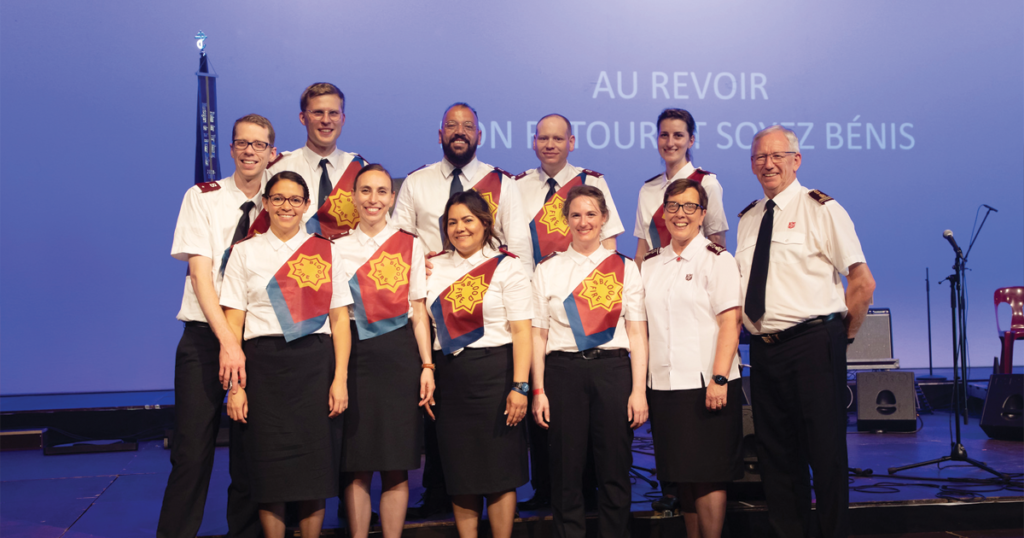 THUN, SWITZERLAND
The Salvation Army's Switzerland, Austria and Hungary Territory recently held the "Out of the Box" festival, an opportunity for the Army community to reconnect after COVID-induced isolation. More than 1,300 Salvationists were in attendance and took part in cre-ative workshops, concerts and panel discussions. Nine cadets from the Messengers of Reconciliation Session were commissioned at the event. General and Commissioner Peddle were also at the festival and spent the days beforehand meeting with leaders of the territory, as well as leadership from other churches and organizations, to discuss various topics of importance to The Salvation Army. They went on to encourage all Salvationists at the festival with inspiring messages.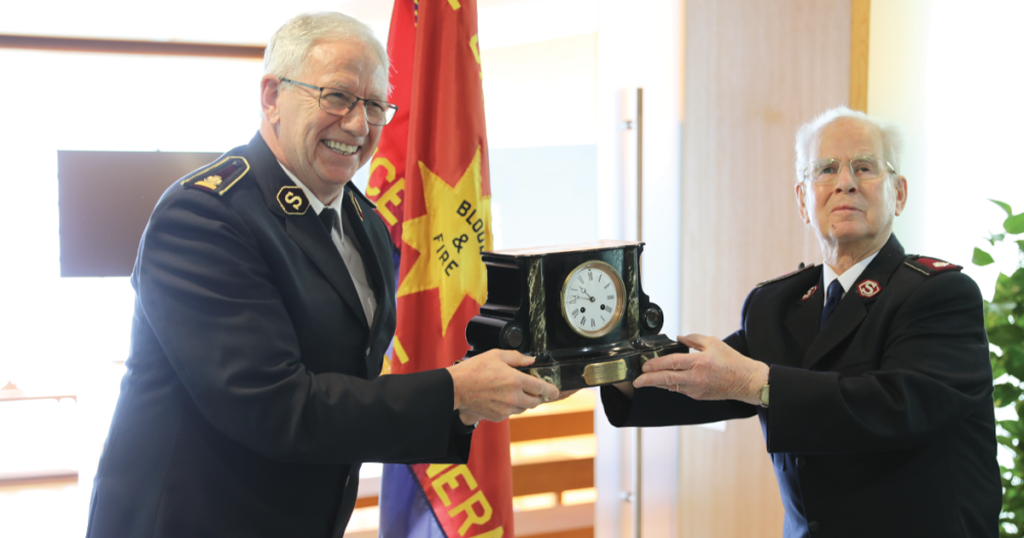 LONDON, ENGLAND
At IHQ, General Brian Peddle was presented with a restored mantle clock and key that have been in the Booth family since they were both given to William Booth in 1866. They were presented by the Founder's great-grandson, Colonel Bramwell Booth. The inscription on the clock says that it was given to William Booth by "members and friends of the East London Christian Revival Society in commemoration of his first anniversary in London." General Peddle expressed gratitude to the Booth family for both keeping the clock for over 150 years and for bringing it to IHQ, which he said would strengthen his connection to past generals.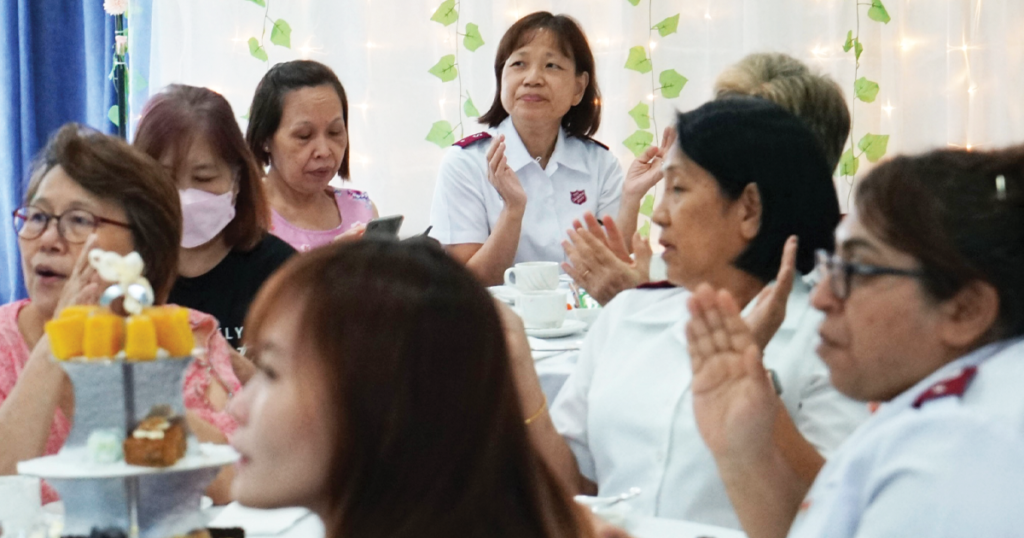 SINGAPORE
Colonel Wendy Walters, Territorial President of Women's Ministries for the Singapore, Malaysia and Myanmar Territory, recently organized a "high tea" fellowship event for 96 women from the multiple Singapore corps. According to Colonel Walters, this was the first post-COVID event that more than five women were able to attend. Commissioner Robyn Maxwell, zonal leader for South Pacific and East Asia gave a message and a challenge based on Ephesians 6:10-20 to the women in attendance, encouraging them to be prepared for daily spiritual battles. The women were served drinks and desserts by male officers from around the territory.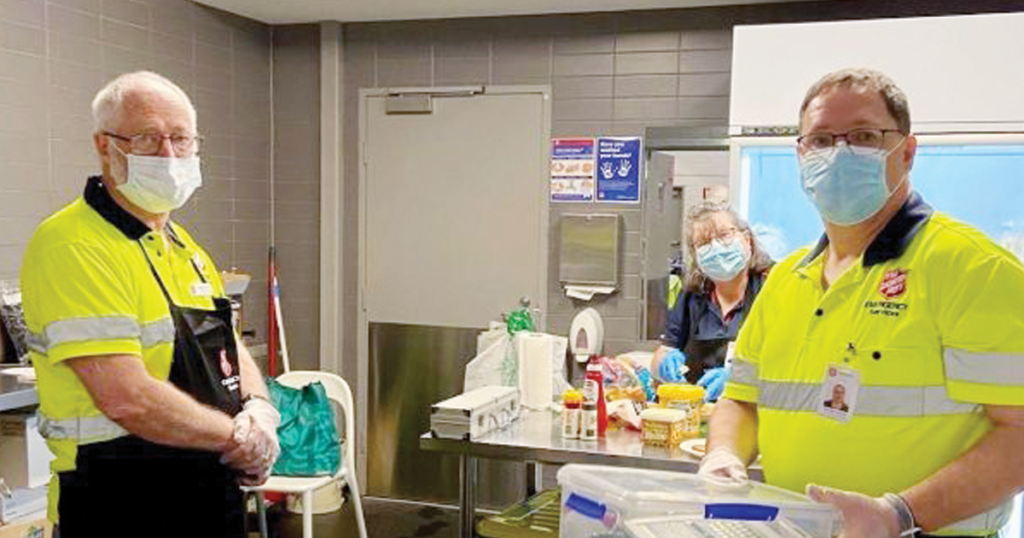 SYDNEY, AUSTRALIA
When Sydney and surrounding areas were plagued by record-breaking flooding over the summer, Salvation Army Emergency Services (SAES) volunteers put theircommunities first and provided catering to evacuation centers in the affected areas.
"Nothing happens in The Salvation Army without volunteers putting their lives on hold to help those in need," said Norm Archer, the Strategic Emergency and Disaster Management Coordinator. Local businesses also aided the Army in their relief efforts, providing supplies when needed at the evacuation centers. SAES also provided 100 lunches a day to a team protecting the Hunter Valley bee population.
NEW ZEALAND
Over the months of June, July, August and into September, the people of New Zealand experienced a harsh winter with higher bills, higher costs for basic necessities and housing insecurity. In response, The Salvation Army launched a "Winter Appeal," asking people with the means to donate and support social services to assist the com- munity. Territorial Director of Community Ministries Jono Bell said that they anticipat- ed many more people would need help than in previous years. Programs that benefit- ted from the appeal included housing, foodbanks, financialmentoring, and counseling and addiction services.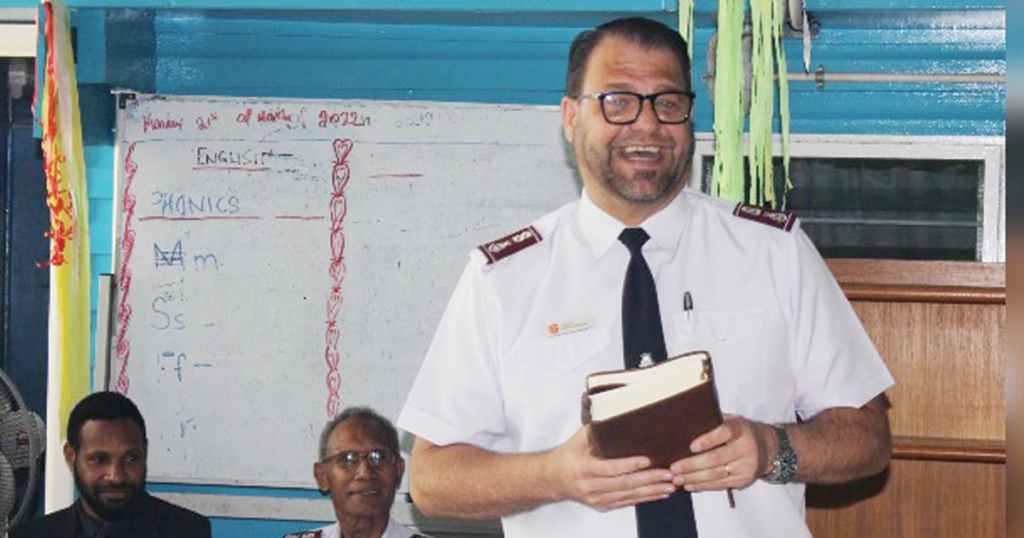 PAPUA NEW GUINEA
Closed for over a year for renovations, the House of Hope recently reopened its doors to serve and counsel women and children seeking refuge from violence and abuse. The much-needed renovations were accomplished thanks to partner donor groups such as Family PNG, UN Women, the Rotary Club and others. Manager of the House of Hope Major Ridia Nenewa thanked donors and supporters both at home and abroad for their help in keeping the ministry operating. Territorial Commander of The PNG & Solomon Islands Territory Colonel Garth Niemand was also in attendance, noting that for The Salvation Army, evangelism and social services go hand in hand.