Feature
Emergency Disaster Services Training
Petaluma, CA - On Saturday, March 18, The Salvation Army conducted EDS canteen training at the Petaluma corps.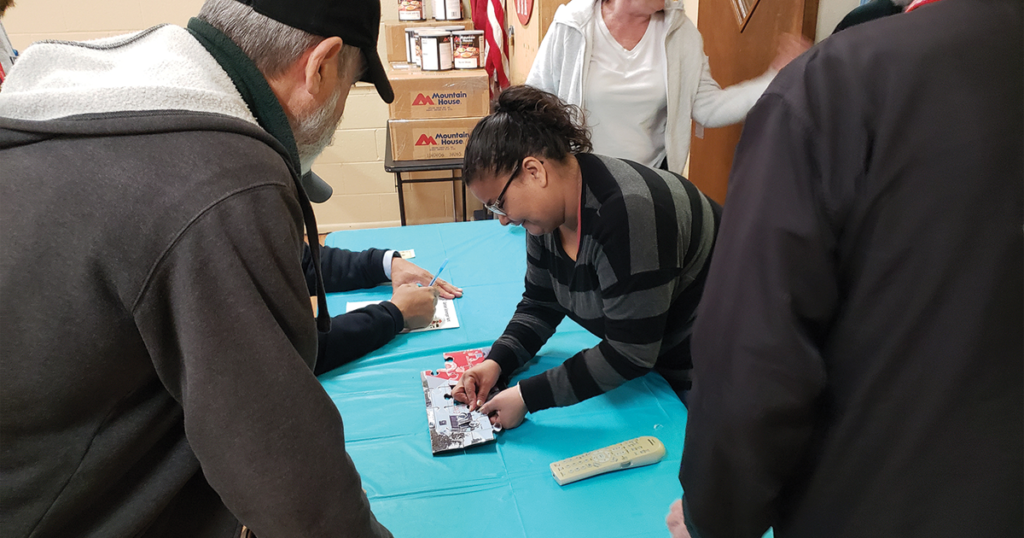 The training was conducted by crews with canteens from Santa Rosa, San Rafael and Petaluma. The training was led by Amy Mefford, the Deputy EDS Director for the Del Oro division.
The training was attended by current EDS volunteers and new community volunteers. Topics covered included chain of communication in a disaster, how to put together menus for multiple-day deployments, sourcing supplies at locations and communicating and working with the Red Cross and civic leaders.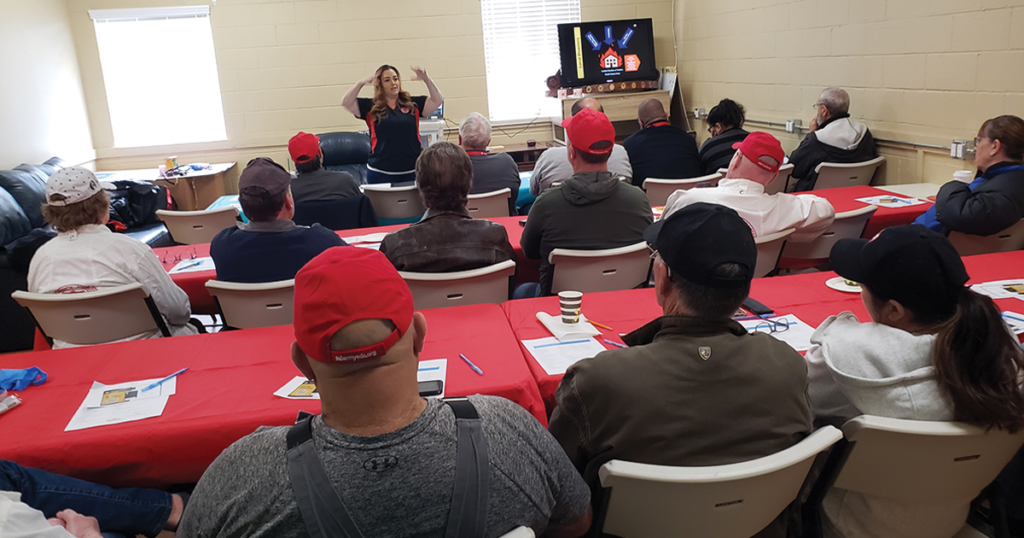 The class of 30 was split into two teams for the day, and the first event was a scavenger hunt. One person took a clue and went out to their assigned canteen to locate an item in the canteen that held a puzzle piece. They would run back and let the next teammate go out while they placed their puzzle piece into a puzzle that made up a canteen and the first team to assemble their puzzle was the winner. The exercise demonstrated teamwork and communication as well as familiarizing the volunteers with needed kitchen supplies in preparedness for deployments.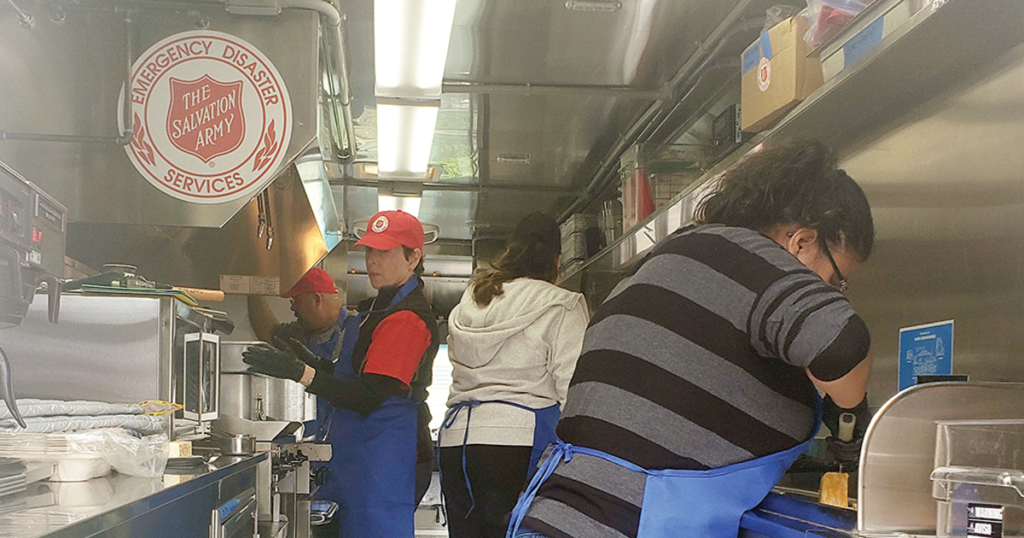 The teams then had a canteen cook off against each other. Each had two hours to put together 75 meals, each with chef's salads and corned beef with potatoes and cabbage. Both teams were judged on the quality of the meal and their teamwork as well as the meal presentation. The meals were placed in thermal transfer bags and 120 of the meals and salads were then taken to the local homeless shelter for the residents' evening meal.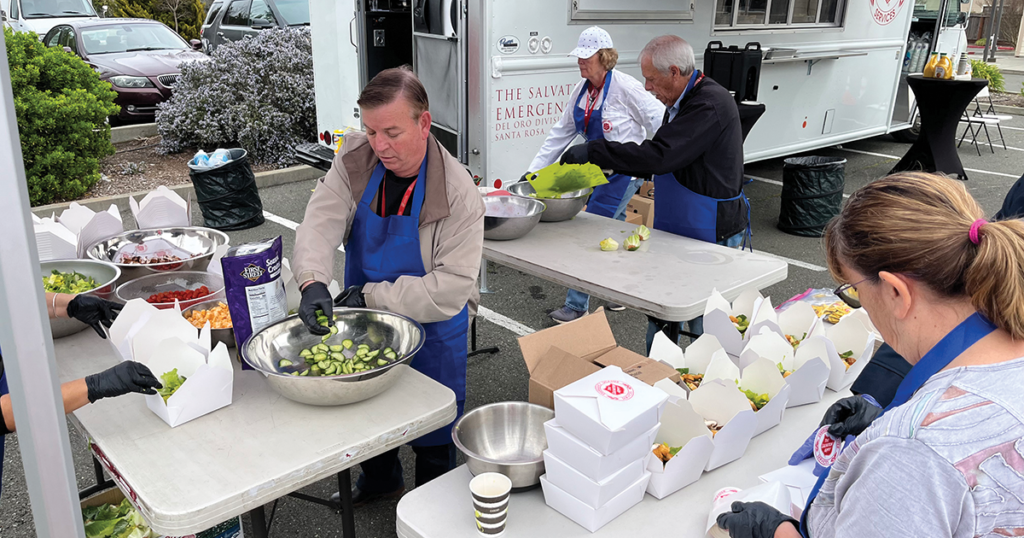 The City of Petaluma's Disaster Coordinator, Tom Jordan, was on hand, testing the availability and strength of the corps' location for receiving and sending radio calls. Jordan said it's important that all designated locations are capable of communicating with the city in the case of an emergency. Jordan said, "It would not be the time to find out a location was a radio dead spot when the next event occurs."
The Petaluma corps opened a 5,000-square-foot warehouse with social service offices in 2012. The warehouse is stored with supplies of food, cots, bedding and toiletries for distribution in times of need. In 2017 and 2018, supplies were delivered to various churches in the community that were acting as evacuee shelters during the local dry season fires.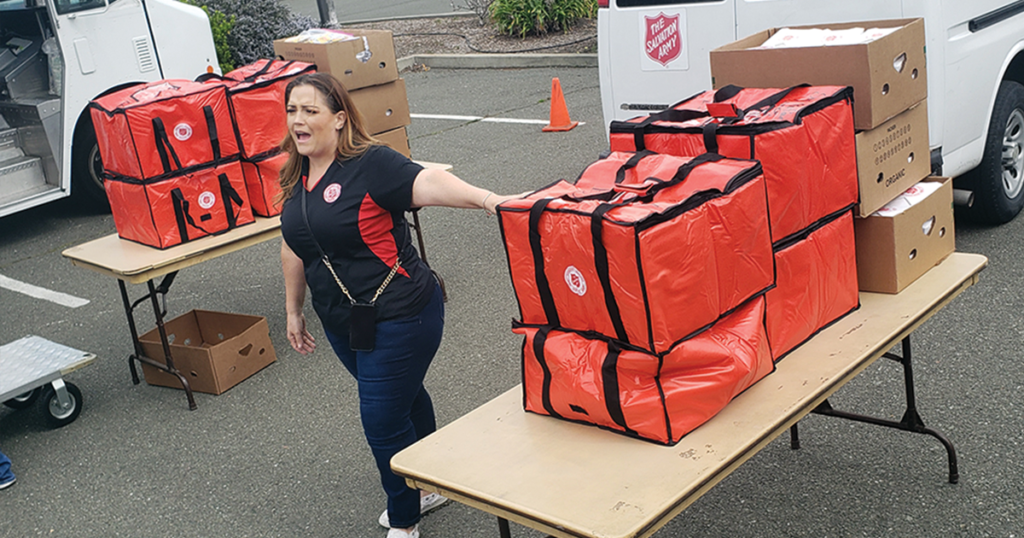 Amy Mefford ended the day with the sage old reminder, "We need to be prepared. It's not if, it is when the next event will occur."