Try This
Lamb Shoulder with Citrus-Fennel Salad
"For this lamb shoulder recipe, lightly scoring the fat cap across the top of the roast allows salt and flavors to penetrate even if you can't season it a day ahead (Bon Appétit)."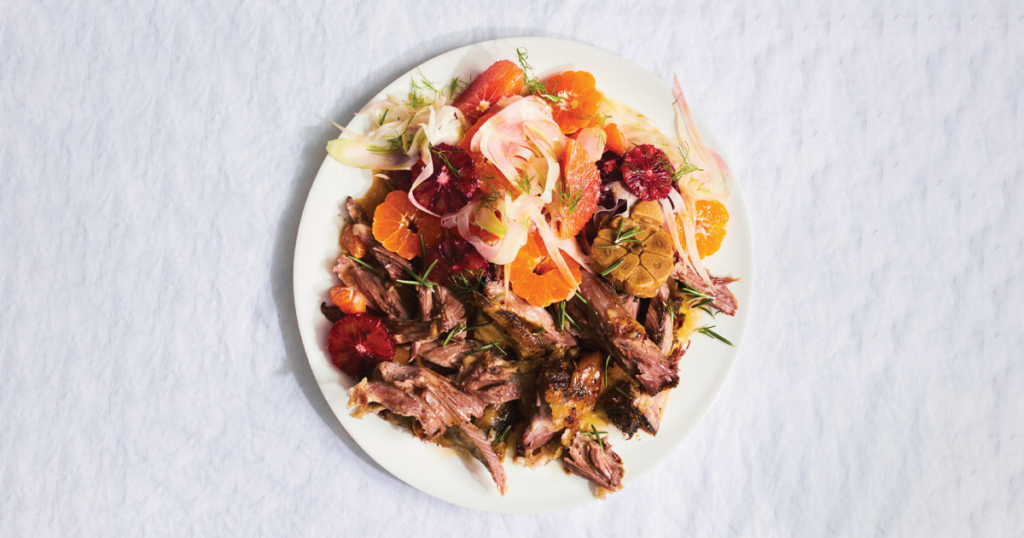 Ingredients – Serves: 8
5½ or 6-pound lamb shoulder (not tied)
6 garlic cloves, finely grated, plus 2 heads, halved crosswise
2 tablespoons extra-virgin olive oil
1 teaspoon crushed red pepper flakes
1 teaspoon finely grated orange zest, plus one 3-by-1-inch strip of zest
2 tablespoons finely chopped rosemary, plus more for serving
6-8 mixed small oranges (such as blood, mandarin and navel), peeled, halved, sliced or torn into small sections
1 large fennel bulb with fronds, thinly sliced
2 tablespoons fresh lemon juice
Instructions
Preheat oven to 300 F. Using a sharp knife, score fat across the top of lamb shoulder to create a crosshatch pattern, cutting about ¼ inches deep and spacing cuts about ¾ inches apart. Season generously all over with salt and pepper.
Combine grated garlic, oil, red pepper flakes, grated zest and 2 tablespoons of rosemary in a small bowl. Rub all over lamb, working into score marks and anywhere there is an opening.
Place lamb in a large cast-iron skillet or baking dish. (At this point the lamb can be covered and chilled up to 1 day if you want to break up the prep.)
Arrange garlic heads, cut side down, around lamb and add strip of zest. Cover with foil. Roast until meat is falling off the bone and fork-tender, 5-5½ hours. Keep covered and let rest 30 minutes.
Gently toss orange pieces and fennel with lemon juice in a medium bowl, then season lightly with salt.
Tear the meat off the bones in large pieces and mound on a platter. Arrange citrus and fennel salad next to meat.
Top meat with more rosemary and drizzle pan juices over. Enjoy!
Alternative Step
Lamb can be roasted 1 day ahead. Let cool, cover and chill. Gently reheat, covered, in a 300 F oven until warmed all the way through, at least 1 hour, before serving.
Reprint: This recipe originally appeared on BonAppetit.com, written by Chris Morocco. Photo by Marcus Nilsson. To read more, click here.