Frontlines
The Army at Large – February 2022
The Salvation Army's ministry spans 132 countries worldwide. Here's a look at how the Army is doing the most good in the USA.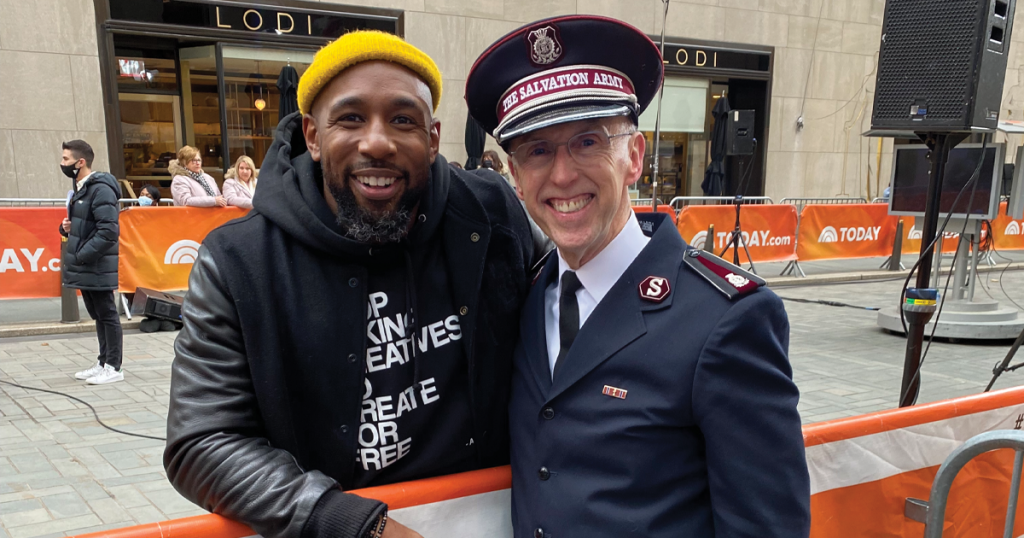 New York City
On Giving Tuesday, dancer and host Stephen "tWitch" Boss joined TODAY as spokesperson to talk about The Salvation Army's efforts to make the holidays brighter and better for people in need. "It's been a pillar of my family to give back," tWitch said.

Cumberland, Md
A local chef was joined by family and friends to offer up a holiday meal for 50 children at The Salvation Army. Payton Hedrick led a team that prepared a turkey dinner with all the trimmings for children in grades ranging from kindergarten to middle school. "This is the fourth charity meal I've done and it's always great to see the smiles on the kids' faces," Hedrick said. "I just enjoy the chance to brighten their day."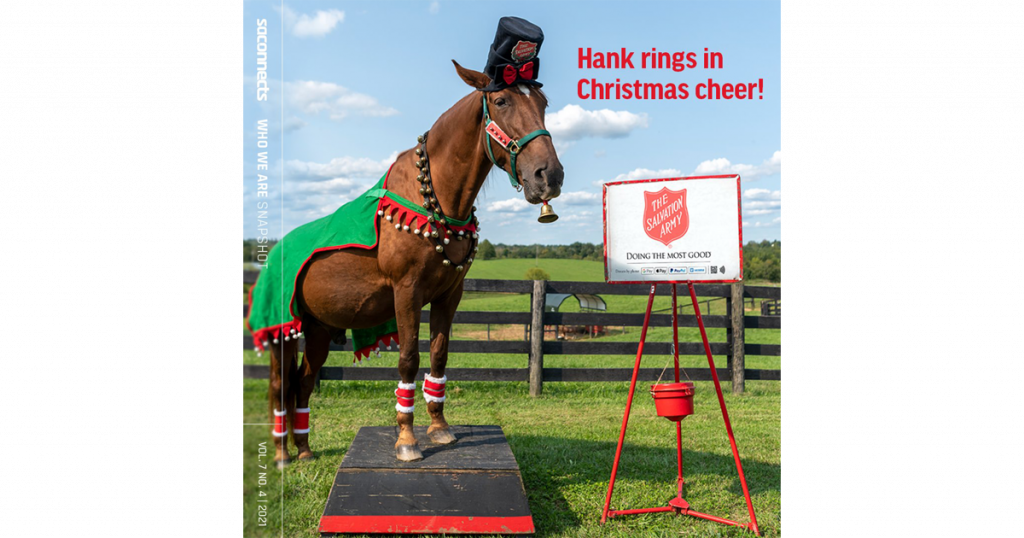 Lexington, Ky
A Kentucky-born Tennessee walking horse, Hank, was abandoned by his owner and left to starve when he was just 3. Tammi Regan, an avid horse enthusiast, saw him standing emaciated and alone in a muddy pasture. She rescued him and nursed him back to health. After introducing her dad to Hank and feeling the sublime joy that passed between them, Tammi told him, "Dad, I promise you'll see me and Hank ringing the Salvation Army Kettle bells at Christmastime someday." Today, Hank is a bell-ringing horse and a common sight at Salvation Army fundraisers in the Lexington, KY area.
Belvidere, Il

Lori learned about the Salvation Army Belvidere Corps Community Center when her son, James, and his friends from high school started volunteering at their food pantry. Not only was she pleased that her teenage son was doing something so positive, but she was also intrigued when she learned that the Army was also a church and a bilingual one at that. This drew her in. "I've always trusted The Salvation Army as a charitable organization and donated over the years, especially at Christmas."
Springfield, Oh

Over 3,400 bikers participated in the 43rd Toy Run in collaboration with the Highway Hikers and the Springfield Salvation Army. The toy run had 3,427 bikers, according to Ryan Ray, Development Director. Bikers from as far away as Texas and Chicago joined this year to deliver Christmas to Clark County. "The toy run is bigger than toys. It's love and nothing is bigger than that. It's a statement to the community's kids that you matter. It's a weight off of the shoulders of families who are struggling," Ray said. "This toy run is so instrumental to the success of our overall Christmas Campaign. It officially kicks off our Christmas season and sets the tone for all we do in the next few months. We anticipate serving over 3,000 children again this Christmas."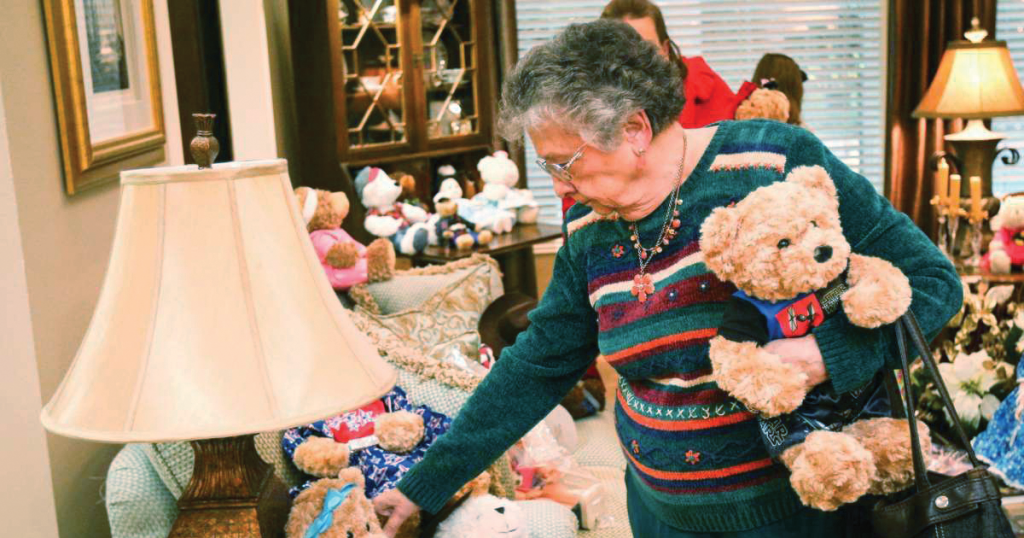 Houston, TX
For 35 years, the Salvation Army's Christmas Silver Tea has been a holiday tradition enjoyed by grandmothers, daughters and granddaughters across Montgomery County. In the early 1980s, when the event was just getting started, longtime event chairman Suann Hereford remembers attending the Christmas Silver Tea with her own grandmother, Lois Lentz, who used to give her a doll or bear each Christmas. When Lentz could no longer attend the event, she'd still send Hereford with $25 to buy a doll or bear. The annual event consists of dressing and selling dolls and bears for the Salvation Army's Christmas toy distribution with proceeds going to support the Army. Hereford said the need is great in our community this holiday season and the Salvation Army has received almost 2,000 requests for holiday assistance for children and senior adults.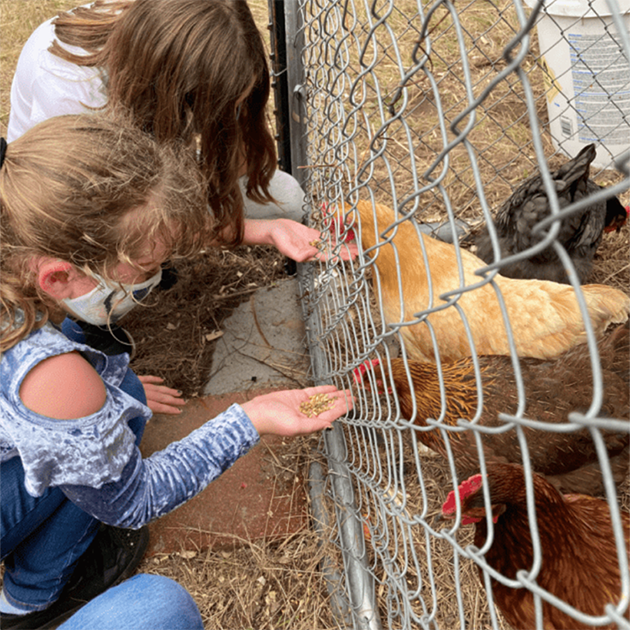 Oregon
Envoy Dennis Stumpf was raising six chickens at his home in Oregon when an idea hatched! He decided that the chickens should be at the local Salvation Army Coos Bay Corps instead. Not only would this aid its community garden efforts but would engage both corps members and program participants and get people thinking about the wonders of God's creation. Children attending the corps' after-school program were instantly taken with the chickens. Stumpf said catching grasshoppers to feed the chickens and rounding the birds up at the end of the day are two of their favorite activities. "The children are also gaining a greater understanding of how everything works together for the glory of God's creation."
San Francisco, CA
What began as regular block activations in San Francisco's Tenderloin neighborhood to keep youths safe on their journey to and from school transformed into the creation of Safe Passage Park. Built on the 200 block of Turk Street earlier this year by Tenderloin Community Benefit District, in partnership with community organizations—including The Salvation Army San Francisco Ray and Joan Kroc Corps Community Center—the designated outdoor space offers a safe place for the community to gather. San Francisco Kroc Center Corps Officer Captain Arwyn Rodriguera stressed an increasing need for the park because of the vast number of families living in the area, especially during the COVID-19 pandemic. Since its opening, the park has become a go-to location for residents to connect with one another and engage in programming that promotes education and physical activity. Community agencies help maintain the park and keep it safe for community members.