Frontlines
The Army Behind Bars
The story of how prison outreach changed one woman's life.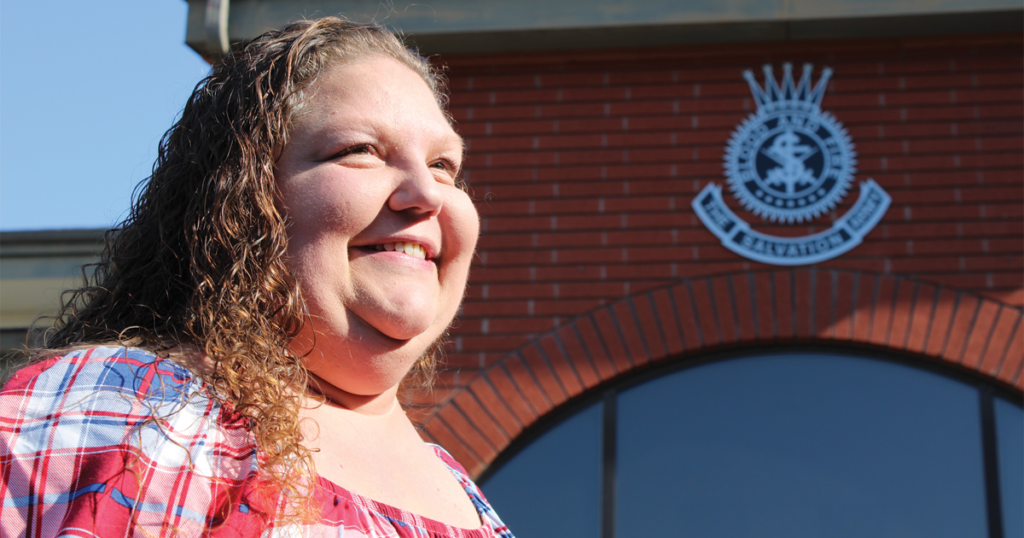 It can be easy for us to forget that as Christians, we're supposed to reach out to and love the least and the lost. We're called to give everyone the good news about Jesus' grace that no one deserves. This includes those who are incarcerated. While we all may not be able to visit prisons and reach out to this population, The War Cry and other Salvation Army materials are delivered to prisons all around the country every month. And sometimes, the message they carry has a greater impact than we expect.
Justina Foster grew up going to church in Lewiston, ID and worked in a family business for 15 years before she decided to "go play" and ignore what she now recognizes to be God's calling on her life. In her early 30s, she got into the drug scene and began to use heavily.
She had a handful of encounters with law enforcement and narrowly evaded conviction, avoiding her first would-be felony for possession of 0.07 grams of methamphetamine due to police error. Rather than pause and rethink her actions, Justina says, "That didn't slow me down one bit."
What did slow Justina down was discovering that she was pregnant at 36, close to the end of her first trimester, and had been "heavily, heavily, heavily" using drugs the entire time. Justina was previously told she'd never be able to have a child because of various health conditions. That, plus her age, plus her drug habits made hers a very high-risk pregnancy. Despite the odds, multiple ultrasounds confirmed that the baby was fine. Justina immediately stopped using and eventually gave birth to her daughter.
For a time, things were ok, but Justina needed to work again to make ends meet. She had some help from friends, but it wasn't enough. She worked the graveyard shift as a cab driver, which proved to be the perfect job to get back into drug dealing. Because her daughter was formula fed, Justina felt free to start using again. Before long, she didn't need a legitimate job to provide for her daughter. Without realizing it, Justina became the biggest meth queenpin in her area.
This was the status quo for a couple years, but a few more encounters with law enforcement changed everything. After a series of controlled buys, Justina was pulled over in her car and charged with multiple felonies, including possession of a controlled substance and distribution of a controlled substance. Now she was on probation and trying to get clean. At her daughter's third birthday party in February of 2019, she and some friends were almost caught using drugs by her probation officer. The next day, she was arrested by local, state and federal law enforcement.
Justina faced a maximum sentence of 30 years in prison, which was eventually whittled down to 20, and then 33 months. But she was bitter. She felt that everything that happened to her was unfair. When chaplains would come to minister to the inmates, she almost always ignored them. Pretty soon, she was transferred to a federal facility south of Seattle, where her cellmate gave her a Life Recovery Bible that she promptly threw in the bottom of her locker.
"I don't think God's here with me right now," she said. "Why would God want me back after I literally turned my back on Him?"
Some time passed, and Justina eventually asked another inmate known for reading their Bible if she could have some Bible studies, which had been sent to the prison, so she could stimulate her mind. Those Bible studies were written and produced by The Salvation Army. When Justina read these studies, she had a revelation. While reading Isaiah 48, she recognized that God forgives and saves even when we don't deserve it.
Justina opened herself up more to God's voice. When the prison chaplain, Chaplain Cho (whom Justina describes as "wonderful" and says taught her how to study the Bible), came to minister, he would hand out copies of The War Cry. Justina began to read and was inspired by the stories of people overcoming struggles and addiction with the strength of God. She admired the soldiers and their faith, and the way they modeled "how we're supposed to live."
"I would read every single word from cover to cover every single month," said Justina. "It was an escape, much of what I had seen before was about ministries overseas, which is wonderful, but I hadn't seen how the churches really worked in the U.S. before." She knew that if she got the chance, she had to visit a Salvation Army church.
Then, Justina got the news that her mother had passed away. Through a series of unusual circumstances and generosity, Justina was granted five days of furlough to attend the funeral, which is entirely unheard of in cases like hers. In that time, she got to take her daughter to a Sunday service at the corps in Lewiston, where they were welcomed with open arms. When Captain David Aycock greeted her, he asked "Are you new?"
"Well, I'm actually just home on furlough from federal prison for selling methamphetamine," Justina said. Without missing a beat, Captain Aycock responded: "Oh, great! I'm glad you're here!"
Justina and her daughter loved their time there and knew it was a potential church home, but Justina had to return to prison. When she got back, she needed to quarantine, and she spent the whole time reading her Bible cover to cover. At this point, she had recognized how many times God's grace had prevented her poor choices from making her life worse than it could have been, and she was now listening intently for God's instructions.
Once she was out of quarantine, Justina was able to read The War Cry and other Salvation Army materials again. She read a story about soldiers doing ministry for the homeless in dangerous neighborhoods in CA, and she realized,"That's what I'm supposed to do. I'm supposed to help the homeless." She didn't know how, but she knew who God was calling her to serve.
Justina was changed. She participated in and led Bible studies, she watched "The Chosen" and other Christian content with her inmates, and she formed godly relationships. She knew that when it came time for her to leave, God was telling her to make The Salvation Army her church home.
Justina spent the rest of her sentence being transferred to prison facilities around the country, continuing to study the Bible and fellowship with other believers, and ended up only serving 23 months total. She returned home a month before her daughter's fifth birthday, and as soon as she was able, she and her daughter returned to the Lewiston corps.
Now, Justina is a housing ambassador, and gets to work closely with the Lewiston corps' social services team to offer people emergency rental assistance, and her daughter is a Moonbeam and loves it.
Justina credits much of her journey to The Salvation Army. "The outreach that the Army has in prisons is beyond life changing," she says. Of course, none of it would've been possible without God's grace. 
Photo by David Reardon.